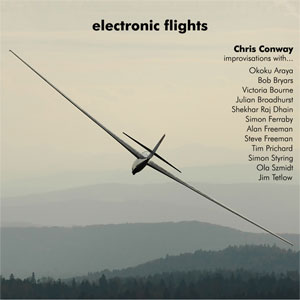 | | |
| --- | --- |
| 1 | Glide |
| 2 | Circling |
| 3 | Shuttlecraft |
| 4 | Night Flight |
| 5 | Hovver |
| 6 | Intergalactic |
1. Glide
Chris Conway – theremin, vocals, effects
Alan Freeman – synthesizer, effects
Tim Prichard – electric guitar, effects

2. Circling
Chris Conway – vocals, low & tin whistles, theremin, kalimba, effects
Simon Ferraby – acoustic guitar
Ola Szmidt - vocals

3. Shuttlecraft
Chris Conway – theremin, vocals, effects
Shekhar Raj Dhain – Roland System 100 synthesizer

4. Night Flight
Chris Conway – theremin, vocals, effects
Okoku Araya – turntable, effects
Simon Styring – electric guitar, guitar synthesizer
Jim Tetlow – laptop, effects

5. Hovver
Chris Conway – vocals, theremin, effects
Bob Bryars – electronic drums
Simon Ferraby – acoustic guitar
Alan Freeman – bowed spring, effects

6. Intergalactic
Chris Conway – theremin, vocals, effects
Victoria Bourne - vocals
Julian Broadhurst - djembe
Shekhar Raj Dhain - synthesizer
Alan Freeman - synthesizer
Steve Freeman – bowed cd, samples, effects
Tim Prichard – electric guitar, effects
Simon Styring - electric guitar, guitar synthesizer
Jim Tetlow – laptop, effects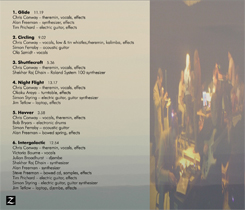 Flights In An Electronic Sky.
Chris Conway's theremin, whistles and voice in a range of groupings selected from an amazing set of musicians recorded live at the Quadelectronic events of 2008.


background
Quadelectronic are a series monthly improvised electronic music concerts at quad studios in Leicester, UK. The musicians are drawn at random into different groups. At the end of the evening there is a big improvisation involving all the attending players.

Electronic Flights is a collection of the best improvisations featuring Chris Conway taken from the Quadelectronic events of 2008.

The recordings capture his distinctive theremin, whistles, vocals and effects in a wide range of settings - from an acoustic trio with female vocal and acoustic guitar, and intriguing duo with a modular synthesizer, an electronic trio and a quartet and a huge final nonette with all kinds of sounds bouncing off each other.



Circling
influences
Vidna Obmana, Eduard Artemiev, Robert Rich, Lydia Kavina, Terje Rypdal, Simon Stockhausen, Bernard Xolotl,



trivia
These recordings more than just document a series of concerts - it is fascinating to hear Chris Conway's theremin and live electronics in a wide variety of musical settings, the continuous voice though the whole album. .

CC's fave track -Glide