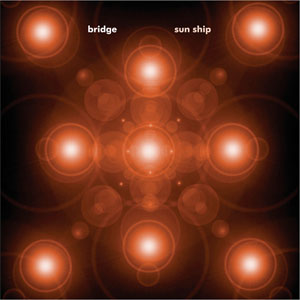 | | |
| --- | --- |
| 1 | Sun Ship - Arrival |
| 2 | Trip |
| 3 | Coalescence |
| 4 | Reunion |
| 5 | Levitation |
| 6 | City Limits |
| 7 | Sun Ship - Departure |
Chris Conway -

keyboards, theremin, electric 9 string guitar, low whistle, vocals, effects

Jim Tetlow - laptop, keyboards, cajon, effects

Christina Wigmore - bass, effects

Kafka Wilde - kaoss pads, samples, vocals, effects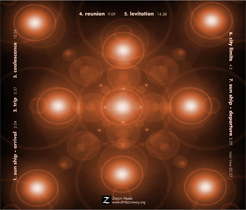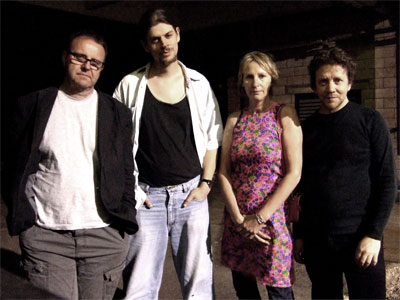 All Aboard The Sun Ship.
Electronic music blends with minimal, lounge/chill-out and space music.
background
Bridge came together at the Quadelectronic improvised electronic music events in Leicester, UK.
Chris & Jim work together in the duo Memory Wire and after some excellent jams together at Quadelectronic, they thought that the electronic, ambient and minimal music that Memory Wire made would have a whole new dimension with Christina's solid and lyrical bass and Kafka's loops and boxes of tricks.
So they booked a studio and great things happened. The ebb and flow between the elemnts of minimal, lounge, electronic, and chill-out imediately felt right.
Chris flits from theremin to keyboards to vocal to flute to guitar, while Jim blends in washes of sound from his laptop, or joining Chris in a 2 keyboard minimal head-to-head. Kafka adds beats, loops, vocals and strange samplings from his boxes, and Christina's bass is the rock that binds it all together.
Sun Ship gathers these sessions with some concert recordings to make a wonderful album that visits a lot of places between floating and grooving.



influences
Robert Rich, LTJ Bukem, Vidna Obmana, Terry Riley, The Gentle People, Terje Rypdal, Manual, Eduard Artemiev



trivia
Recorded digitally live at Quad Studios.

Reunion was recorded live at Quadelectronic 30 event - duo to ilness and full schedules, Bridge hadn't played to gether at all for some months - at QE30 they just got up and recorded Reunion - there are no edits - what you hear is what happened.

CCs favourite track - Levitation