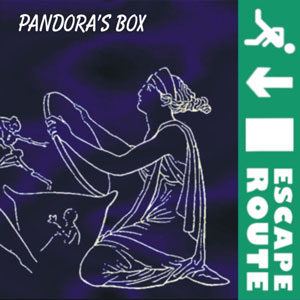 1

Opening The Box
.No Escape Route

2

Entry

3

Search

4

Puzzle

5

Flight

6

Reflection

7

Hope

8

Dispair

9

Fury
10
Lament
| | |
| --- | --- |
| Chris Conway - | theremin, synths, flutes, whistles, kalimba, voice, effects |
| Alan Freeman - | springs, acoustic CD, guitar, synthesizers, gadgets, effects |
| Steve Freeman - | bass guitar, acoustic CD, prepared tapes, voice, effects |
| Simon Styring - | guitar/guitar-synth, effects |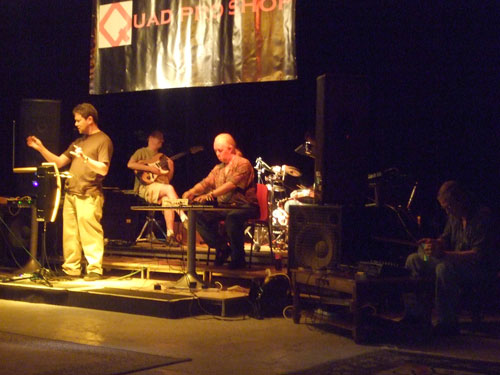 Live improvised electronic and electro-acoustic music.
background
This group grew out of regular live performances at Improv Electronic events that CC organised in Leicester. They developed a style of playing that would drift from tonal music to soundworld - players would occasionally take a break from performance while the others continued, and rejoin again later. This helped change the density and flow of the music.
Editing and selection of music for the recording was made by Alan Freeman who also devised the titles, art and associated mythology based liner notes.



Opening The Box


influences
Vidna Obmana, Eduard Artemiev, Robert Rich, Lydia Kavina, Terje Rypdal, Simon Stockhausen, Bernard Xolotl, Karlheinz Stockhausen, Wendy Carlos



trivia
Recorded digitally live at Improv Electronic event, Bambu, Leicester. Edit and mix by Alan Freeman.

Liner notes -
Opening the box: After Prometheus' theft of the secret of fire, Zeus ordered Hephaestus to create the woman Pandora as part of the punishment for mankind. Pandora was given many seductive gifts from Aphrodite, Hermes, Charites, and Horae (according to Works and Days). For fear of additional reprisals, Prometheus warned his brother Epimetheus not to accept any gifts from Zeus, but Epimetheus did not listen, and married Pandora. Pandora had been given a large jar and instructed by Zeus to keep it closed, but she had also been given the gift of curiosity, and ultimately opened it. When she opened it, all of the evils of mankind escaped from the jar, although Pandora was quick enough to close it again and keep one value

CC's fave track - Opening The Box