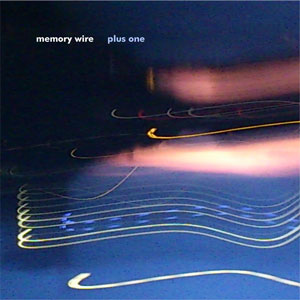 | | |
| --- | --- |
| 1 | Solaristics |
| 2 | Furthermore |
| 3 | Elusive |
| 4 | Dreams Of Long Ago |
| 5 | Homecoming Ritual |
| 6 | Phantom Power |
| 7 | Laboratorium |
| 8 | Utero |
| 9 | Vanishing Point |
Chris Conway -

theremin, synthesizer, low whistle, chimes, voice, field recordings, effects

Jim Tetlow -

laptop with keyboard (software synths & effects), vocals, cajon, bowed cymbal

plus
Alan Freeman - synthesizer - 1
James Lynch - synthesizer - 2
Robin Lister - soprano saxophone - 3
David Dhonau - cello, effects - 4
Victoria Bourne - vocals - 5
Steve Freeman - bowed cd, effects, synthesizer - 6
Zaheer Gulamhusein - synthesizer, effects - 7
Ola Szmidt - vocals- 8
Dave Powell - hurdy-gurdy, effects - 9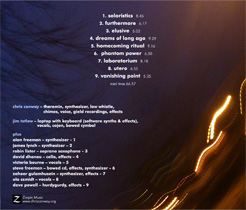 Homecoming Ritual with video by Jim Tetlow


Unedited performance of Vanishing Point with Dave Powell


Dreams Of Long Ago with Dave Dhonau


Laboratorium with Zaheer Gulamhusein



background
Plus One - the one with a different guest on each track.
Quadelectronic events that Chris & Jim organise puts randomly drawn groups together to play for a 7minute piece. Sometimes the group chosen has been Memory Wire duo plus one other. So this is a selection of the best live pieces played with a different guest.

Track 6 Homecoming Ritual is different however as this was recorded at Victoria Bourne's studio and follows a graphic score devised by Chris Conway involving different sections of solo and collective improvisation with choral signals marking each section.


trivia
Memory Wire's 3rd album.


influences
Robert Rich, Terry Riley. Vidna Obmana, Eduard Artemiev, Alio Die,