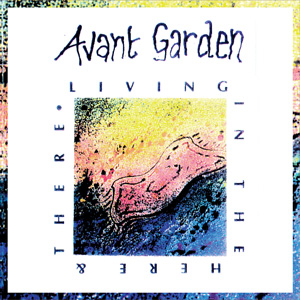 | | |
| --- | --- |
| 1 | Those Moondrops Are So Hard To Find |
| 2 | Dorian Morian's Flying Carpet |
| 3 | Flying Home |
| | |
| --- | --- |
| Chris Conway - | piano, keyboards, electric guitar, bamboo flute, kalimba, zither, melodica, percussion, voice. |
| Carl Peberdy - | sitar, tabla, percussion, zither bass, bowed psaltery, bamboo whistle, bamboo horn, voice. |
| Eve Thacker - | synthesizer, effects, electronics. |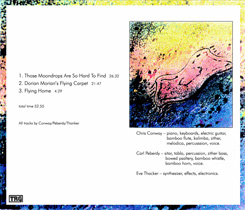 Two worlds meet.
Improvised music album as the world music and jazz of The Rain Garden meet with electronicist Eve Thacker top make out of this world music.



background
World music duo The Rain Garden spent a day recording with avant garde electronicist Eve Thacker in 1992 and this was the result. Sadly Eve passed away in early 2013 and this re-release is dedicated to her memory.

Eve created sounds using the live sounds of The Rain Garden as source material, as well as adding synthesizer and feedback loop effects.

The experience gave The Rain Garden a feeling of freedom as their improvisations went in many directions they had not charted before within the band's recordings at that time. Only when they released the 1995 live album Cosmic Engineers would they again approach such free improvisation.

The result is an album that seem neither an electronic album, a free jazz album or a world music album, but a meeting place of all three.


influences
Eduard Artemiev, Keith Tippett, Oregon, Collin Walcott, ECM, Rainer Bruninghaus, Terry Riley


trivia
The album was recorded in one day in easrly 1992 and released on cassette. This was remastered from the that master in 2013.

Only 30 copies of the cassette were ever made.

Cover art was from the original cassette album by Ali Russell, Chris's housemate at the time.

CC's fave track - Those Moondrops Are So Hard To Find