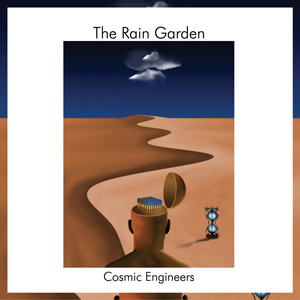 | | |
| --- | --- |
| 1 | Lift |
| 2 | Well Then |
| 3 | The Laboratory |
| 4 | Tighten Up The Circle |
| 5 | Open One's Conciousness |
| 6 | What It's All About |
| 7 | Are There Any Messages For Us? |
Chris Conway -

keyboards, acoustic 9 string guitar, tin whistle, bamboo flute, voice, kalimba

Carl Peberdy - sitar, tabla, voice, percussion

Mary Browne -

voice, percussion, tin whistle, kalimba

Simon Styring - electric guitar, voice

Lester Moses - flute, soprano saxophone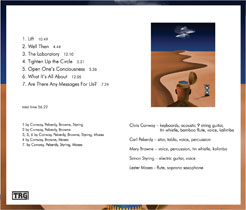 A wild and amazing set of free improvised music.
Recorded at The Rain Garden's 10th birthday concert, this album finds them in an adventurous mood, blending world music, minimal music and free jazz.


background
A live concert celebrating 10 years of The Rain Garden from 1995 sees them augmented by a space rock electric guitarist and free jazz saxophonist. The end result is a wild surreal trip from atmospheric world music to space music to free jazz and everywhere inbetween. This concert found everyone in adventurous and experimental mood.



influences
Oregon, Alan Stivell, Terry Riley, Evan Parker, Keith Tippett, Collin Walcott



trivia
The title of the album taken from Clifford Simak's book of the same neame which Chris was reading at the time. Track titles were randomly drawn from the book.

This was Mary Browne's last album with the band - she moved to London soon after, as did Lester.