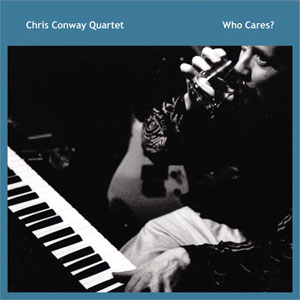 | | |
| --- | --- |
| 1 | Get Yourself A Life |
| 2 | Cry |
| 3 | If Only |
| 4 | I Care |
| 5 | Days Gone By |
| 6 | The Lonely Road |
| 7 | Carmen Miranda |
| 8 | Skidaddle |
| 9 | The End Of The World |
| 10 | New Town |
| 11 | Count Me In |
| 12 | Dodo |
| 13 | Phone Home |
| 14 | Lights Out |
Chris Conway -

piano, keyboards, electric & 9 string guitar (2, 5), bamboo flute, kalimba, voice,

Neil Segrott - bass, electric guitar 1, 9, 10

John Runcie - drums

Andy Nicholls - tenor saxophone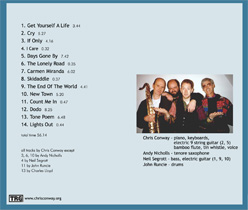 Straight ahead jazz, Latin and ballads.
Featuring excellent Chris Conway's quartet and his stunning jazz piano playing and compositions. - "lyrical, light-fingered, usually breezy approach dominating every track" - Jazz Journal


background
After 2 albums by his Happy Landings trip which mixed modern ECM styled jazz with atmospheric and world music influences, Chris added sax player Andy Nicholls and decided to make a much more straight ahead jazz album.

Andy brought with him 2 tunes and Chris asked each player to provide a solo interlude.
The album provided the backbone to Chris's Quartet and jazz band concerts for quite a few years, in fact he regularly plays some of these pieces in a duo with Andy Nicholls.

Having remastered the Happy Landings albums it seemed a good time to remaster Who Cares? so that this great band and album could be heard in full.



influences
Charles Lloyd, Bobo Stenson, Steve Kuhn, Terje Rypdal, Novi Singers, Tony Scott, Jiri Stivin, Bosko Petrovic. Paul Horn



trivia
10 tracks from this album ended up on the Breathtaking album - a compilation of tracks from this album and the Happy Landings albums. The tracks here have been remastered, however.

The 4 solo interlude tracks were designed as aural breaks to refresh the ears along the way.

The End of The World & Get Yourself A Life & Cry all became jazz songs. Cry can be heard as Cry For The Mountains on the Chris Conway Live! album

Chris is a big Carmen Miranda fan, hence the title of that track.

CC's fave track - Cry



reviews

Jazz Journal
Although born in Michigan USA, Chris Conway is now mainly resident in Britian and is known best for multi-instrumental work with the world-music group Jazz Orient/Re-Orient.

On this album, he concentrates on jazz piano, his lyrical, light-fingered, usually breezy approach dominating every track. Nicholls delivers some workmanlike tenor solos, notably on Cry and Dodo, while the rhythm section are subtle and unobtrusive throughout.

Highlight of the set is the funky, sprightly Phone Home which gets a thorough shaking down here. The style is undemonstrative jazz-fusion, with a certain New Age lightness in places, which makes for a pleasant listen.
Simon Adams