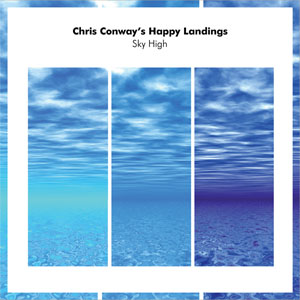 | | |
| --- | --- |
| 1 | The Mercurial Wave - Arrival |
| 2 | The Long Winter |
| 3 | Golden Steps |
| 4 | The Purple Distance |
| 5 | Return Ticket To Oblivion |
| 6 | Scarabesque |
| 7 | So Long Blue |
| 8 | Horizon Firelight |
| 9 | Sky High |
| 10 | The Mercurial Wave - Departures |
| | |
| --- | --- |
| Chris Conway - | piano, keyboards, bamboo flute, voice, bombarde, electric 9 string guitar (9) |
| Neil Segrott - | bass, electric guitar, percussion |
| John Runcie - | drums, percussion, kalimba, temple bells |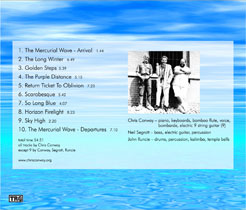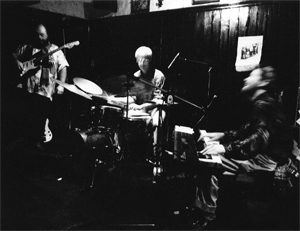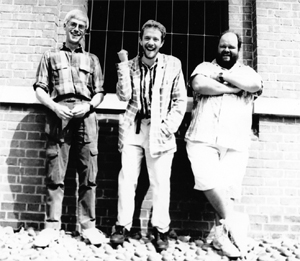 Evocative piano based jazz and fusion.
A stunning set of compositions with ECM label stylings with a touch of the cosmic. Beautifully remastered, this music has a fresh exciting sound
background
Chris Conway's ECM styled jazz trio produced this gem of an album in 1992, originally released on cassette. It has been remastered from the original digital recording and sounds like it was recorded just yesterday. It contains some of Chris Conway's finest and most intricate jazz compositions and some phenominal playing from all three.

Sky High was recorded live onto digital tape in the basement studio of the University of Leicester - the band took great pains to get the sound just right and recorded late into the night to get the best take on each piece.



influences
Aparis, Markus & Simon Stockhausen, Rainer Bruninghaus, Eberhard Weber, Arild Andersen, Bobo Stenson, Pat Metheny, ECM



trivia
The Long Winter was also recorded by The Rain Garden on their Practical Candle Magic album.

So Long Blue eventually became a song, and was recorded ten years later on Chris Conway's Alien Salad Abduction album.

The Long Winter and Golden Steps were included in The Chris Conway Band's CD Breathtaking which was essentially a compilation of 3 Chris Conway albums.

No overdubbing was used on the album - it was recorded live onto digital tape. Ambient synth work was pre-prepared on a sequencer and triggered live by footswitch.

Sky High is effectively this trio's 2nd album - a previous one Meet You There was released on cassette but was not digitally recorded and has not been rereleased.

Departures was used in a film by Norwegian director Bjornar Bjornson.

total time 54.51
all tracks by Chris Conway
except 9 by Conway, Segrott, Runcie

CC's fave track -So Long Blue