1

Call Of The Wild

2

intro - kalimba

3

Long Days Waiting

4

intro - colour rhyming

5

Green Clothes

6

Furies (CD only)

7

intro - dreams

8

Age of Miracles

9

Replicator Malfunction Blues

10

Secret Garden (CD only)

11

Life, Magic and Love

12

intro - sympathy vote

13

Nobody Loves Me (Like I Do)

14

intro - whistle repair

15

Rainbow Real

16

intro - alien

17

The Alien Jellyfish Song

bonus studio tracks

18

Cry For The Mountains

19

Rainbow Real - studio version

20

Full Circle

21

Seems Like A Dream

Chris Conway -

lead vocals, acoustic 6 & 9 string guitars, tin whistles, kalimba, piano, keyboards

on bonus tracks -

Roger Pugh - mandola, vocals - 18 - 21

Simon Styring - electric guitar, vocals - 20, 21



All the atmosphere and some classic chat from a classic solo gig.
Recorded at 2 Filk festivals in front of 150 filkers who were up for a good time. + 4 bonus studio tracks!

"He sounds totally at home in a live environment with this recording cementing his reputation as a gripping performer." - Musician Magazine



background
Taken from 2 solo concerts at filk conventions in Milton Keynes and Eastbourne. A fantastic responsive audience.

It had been put to Christo by audiences that his solo gigs were often quite funny occasions, whereas his albums were usually serious and thoughtful. The concerts gave him the opportunity to do his "silly" songs as he calls them, his irresistable laid back onstage chat mixed with solo versions of songs from recent albums as well as covers of songs by well known filkers.

This album captures Conway the performer.



influences
John Sebastian, Paul Kantner, Country Joe McDonald, Jesse Colin Young, Buffy Sainte-Marie



trivia
Most of this album was recorded at CCs first ever filk convention - the act to open the convention hadn't turned up yet, CC was unpacking his car, the committee spotted him and said - "How would you like to go on NOW!" This began CCs association with filk.
The bonus tracks are remaining tracks from a German tour CD made with Roger Pugh in '97. - other tracks from his work with Roger Pugh can be heard on the bonus tracks for Sounds Like Rain and on the Lost Tracks EP.

This is one of the few CC albums where he plays songs written by others - CC wanted to feature other filkers work - Secret Garden is by Talis Kimberley, Furies is by Andrea Dale (who aslo features briefly on CCs Alien Salad Abduction album where her phone message was used on the track Deep Space Phone.

Cry for the Mountains can be heard instrumentally on Breathtaking as a jazz piece, and on Sanctuary as a solo piano piece.

A studio version of Replicator Malfunction Blues can be heard on the Deep Space Love album

A new live version of Green Clothes can be heard on the Live & Peace & Outer Space album.

CC's fave track - Green Clothes

reviews

Musician Magazine - Keith Ames

A quality CD released to celebrate 20 years of concerts by Chris, who is known both for his extensive recorded and live output and as a valuable part of Vikki Clayton's band. He has also recorded and toured with members of Fairport Convention and Jethro Tull.

It is therefore hardly surprising that he sounds totally at home in a live environment with this recording cementing his reputation as a gripping performer. It's especially enjoyable to hear snatches of between song patter which add so much to an entertaining solo set.

Stand-out track - Rainbow Real.



Time Out Magazine

Singer-songwriter Chris Conway, whose recent album "Chris Conway - Live!" was recorded live at two science fiction folk music conventions. The mind boggles!



Filklore - Paul Bristow

"Heard it. Love it. Wannit."



Filklore - Tim Walker

"Absolutely brilliant. The recordings have really captured the energy of Chris' live performances and the sound quality is crystal clear. If you hadn't seen the live performance you'd think that the track with simultaneous vocals, *two* whistles and a backbeat must have been either more than one person or overdubbed - but it wasn't, jaws were dropping left, right and centre!!! Chris is a real gem. He's a fantastic musician, singer and lyricist and I for one have a shed load of respect for what he can do."


buy cd

only £9 free postage
downloads


Amazon UK

Amazon.com

Bandcamp - name your price





you might also like...


Deep Space Love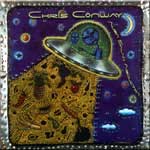 Chris Conway - Alien Salad Abduction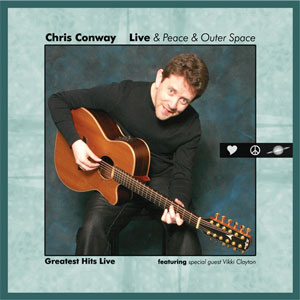 Live & Peace & Outer Space