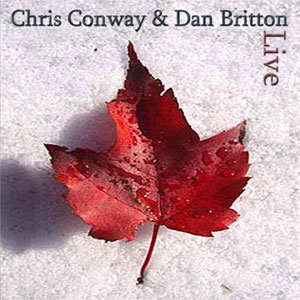 1

Matty Groves

2

On My Way

3

Through Your Eyes

4

Time To Talk

5

Angel

6

The Water Is Wide/
When Will We Be Married?

7

Dreaming For The People

8

Magical Time

9

The Sally Gardens

10

theremin interlude* (CD only)

11

My Town

12

Deja Blues

13

Matty Grooves
Chris Conway -

vocals, keyboards, acoustic 9 string guitar, tin & low D whistles, bamboo flute, kalimba, theremin

Dan Britton -

vocals, acoustic guitar, bodhran, harmonica

special guests

Andy Fitzsimons - congas, percussion -1, 3

Carl Fandango Dawson - electric guitar - 3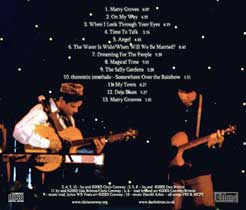 The dynamic duo captured live at some of their favourite haunts.
The live magic is captured wonderfully - almost as good as being at a Chris Conway & Dan Britton concert !


background
Wanting to record a live album - the guys were keen to record as many songs different to their studio album as possible (only 2songs are from Just Be Real). They used the opportunity to show some off their interpretations of traditional Irish songs as well as reviving old songs from their Storm Thieves days.

It was originally planned that Just Be Real be recorded live before the lure of the studio beckoned. The 2 wanted a snapshot of their unique live rapport - they got it - and were most happy with the results...


influences
David Crosby, Alan Stivell, Stephen Stills,Van Morrisson, Mike Scott, Waterboys, Ray Charles, Neil Young



trivia
The CD was taken from 4 recorded gigs -
2 at The Wharf, Bugbrooke, Northamptonhire,
1 at the big Summer Sundae Festival, De Montfort Hall, Leicester,
1 with Fitz & Fandango at The Musician, Leicester.

On My Way, Time To Talk, Angel, Dreaming for the People, My Town are from The Storm Thieves albums - the studio versions can be heard on their albums.

The Water is Wide - When Will We Be Married and Deja Blues became standards for Govannen and can be heard on their Water is Wide album.

Chris recorded a bossa version of Time To Talk on his Chocolate Bossa album.

Magical Time is from Dan Britton's album Riding the Red White and Black Horses

CC's fave track -Dreaming For The People
DBs Fave track -Matty Groves