Chris Conway & Dan Britton - Just Be Real




| | |
| --- | --- |
| 1 | Wish |
| 2 | Call Of The Wild |
| 3 | Matty Groves |
| 4 | Carousell |
| 5 | My Town |
| 6 | Morning Rain |
| 7 | Don't Count On Me |
| 8 | The Alien Jellyfish Song |
| 9 | Long Day's Waiting/Porth Ui Mhuirghaesa |
| 10 | Snow And The Fire |
| 11 | Just Be Real |

Chris Conway -

vocals, keyboards, acoustic 6 & 9 string guitars, electric 9 string guitar, kalimba, tin & low D whistles, zither, bamboo flute, banjo

Dan Britton -

vocals, acoustic & electric guitars, bass, bodhrans, percussion, harmonica

special guest
Neil Segrott - bass - 4, 8



A powerhouse of dramatic songwriting, and passionate delivery.
Two amazing singer-songwriters combine to make a classic album of each other's best loved songs.

"The music on 'Just Be Real' is nevertheless as powerful, potent and harmonious as any you're likely to hear" - RocknReel Magazine



background
Chris & Dan had payed for soem years and recorded 3 albums in The Storm Thieves band. When the band came to an end they started working in a duo and although they had solo albums and Storm Thieves albums, there was a demand for an album of the duo.

They started out recording an as-live set in the studio - a representation of their concert set. Then they got carried away and added harmonies, and bass, and eventually made a whole production out of it.

They chose to record definitive versions of songs they sang in the Storm Thieves band, adding other songs that were in the live set.

The recording process was very easy with no disagreements and a very clear demarkation as to who was good at what, ie Christo at vocal harmonies/flutes/wafty guitar, Dan at percussion/bass/grungey guitar etc.

A happy album to make all round.



influences
David Crosby, Alan Stivell, Van Morrisson, Stephen Stills, Sam Cooke, Mike Scott, Neil Young, Santana


trivia
The first sessions for this album included covers the duo did at concerts, eg David Crosby's Long Time Gone, and Van Morrison's Sweet Thing etc. The recordings of these no longer exist.

The CD version has a longer version of Snow And The Fire than the download version.

The engineer on the album is Kev Reverb, who is best known as a member of rock band Crazyhead.

CC's fave track -Carousel
DB's fave track -Matty Groves

reviews

Traditional Music Maker Magazine - David Kidman

Multi-instrumentalist and singer-songwriter Chris combines his considerable talents with powerful singer Dan Britton on their first actual joint release, although they have regularly performed together over the past six or seven years, notably in the Storm Thieves Band.

Dan's individual pedigree is no less worthy than Chris's (he's played with Jackie Leven, for example), and the two musicians still gel well together really well, with a strong identity and a combined sound that has (quite rightly) been compared to a full band.

Dan's own compositions - there are just four here - stand out as good gutsy contemporary songwriting, and the arrangements that he and Chris have come up with here are very skilled and never less than intersting, making good use of interplay between acoustic and electric timbres. I was particularly impressed with imaginative and dramatic new version of Matty Groves that has everything going for it - real passion in the vocal, intriguing use of different instrumental textures and musical influences without it ever seeming either contrived or merely clever.

In comparison with Dan's writing, Chris's own compositions here seem softer-focus, more based on straight chordal progression than melodic development - though not unattractive, I hasten to add.

No less than four of the titles here overlap with Chris's Live! solo release; Call of the Wild comes off better in this new guise for the more spacious arrangement brings out it's latent melodic possibilities, while there's nothing wrong in having another version of Long Day's Waiting, especially one as inventive as this, rounded off by a jig.

A satisfying release that grows in stature with every playthrough.

Musician Magazine - Keith Ames

With strong artwork by Fandango, the liner notes highlight Chris's versatility as an instrumentalist, with keyboards, whistles, six and nine string guitars, zither and banjo all involved.

On this particular self-produced album, Chris is partnered by Dan Britton on vocals, guitars, bass, percussion and harmonica. Dan, who has played with Chris for over seven years in various line-ups, also adds bodhran to Matty Groves before the track takes an unexpected turn and explodes in a Wishbone style melee of twin guitars.

Furthermore as well as being a superb player, Chris certainly has interesting ideas for lyrical twists..."I turn back to a jellyfish suspended off the floor and you say Hey baby, that just turns me on some more" (The Alien Jellyfish Song). Recommended.

Rock n Reel Magazine - Dave White

After the tour de force that was Chris Conway's last album ('Earth Rising'), the American singer-songwriter now based in the UK teams up with old sparring partner, Dan Britton, for this new release. Conway and Britton have intermittently performed together in various bands and as a duo these past seven years. 'Just Be Real' is their first album collaboration.

The bulk of the material was written by one or both of the pair and fans of either musician will find plenty to enjoy in the merging of American and Celtic musical styles. Both are strong singers, considerably talented songwriters and excellent musicians so it's hardly surprising that the self-penned material is of typically high quality.

There are a couple of traditional numbers, too (including a version of 'Matty Groves') and it's all done with tremendous style and verve. If not quite as ambitious in its scope as 'Earth Rising', the music on 'Just Be Real' is nevertheless as powerful, potent and harmonious as any you're likely to hear these coming months.

If you didn't catch the pair supporting Frances Black on a couple of recent tours, don't know Conway from his terrific back catalogue and multi-instrumental role in the Vikki Clayton Band, or missed Britton when he played with Jackie Leven and supported the likes of The Saw Doctors and Dick Gaughan, then start here!




Sounds Alive Magazine - Dave Kirk

Take a leaf out of Chris and Dan's book/collection, or better still treat yourself to a new CD for your own personal collection.

There is a symbolic leaf/graphic on the front cover of this new and refreshing CD offering from Chris and Dan and, having been on this latest musical journey with two very fine musicians/songwriters and, may I say, two genuine all round blokes, you can tell that their combined musical communication skills have well matured to create this fine piece of work. Together with loving care they have produced an exceptionally well written and well-recorded CD entitled "Just Be Real".

You might guess somewhat from the above opening paragraph that I like this CD a little, but when you have been given a free complimentary copy of such a work to write about you are bound to put in a good report, under duress of course!
I won't attempt to describe each individual track, I will leave that to you as a wonderful surprise for your first listening. Suffice to say, with a list of instruments consisting of; keyboards, acoustic & electric guitars, kalimba, tin & low D whistles, zither, bamboo flute, banjo, bass, bodhran, percussion, harmonicas, vocals, there is a wealth of musical wonderland on this CD. These two multi-talented fellows perform and stretch themselves through rock, Celtic, modern folk, harmony ballads, traditional, west-coast feel, jazz, the list is endless.

My favourite track penned by Danny (Wish)
My favourite track penned by Chris (Long Days Waiting)

The symbolic leaf graphic on the front of this CD, as I mentioned at the beginning of this article could also be interpreted as one at the top of the tree and I am sure you will agree with me when you have had the pleasure of listening to this musical journey, this recording could and should be rubbing shoulders with named, world-wide, quality recording artists on display in any reputable musical retailer on the High Street.

In conclusion, Mr Britton and Mr Conway can feel justifiably very proud of this creative and professionally produced album. It's crisp, clean, with a fine top edge and performed with bags of conviction. You can almost feel the enjoyment they doubtlessly experienced whilst recording every track freely and obviously, with these two guys, very tight, melodic and rhythmic precision.




Frances Black Website - Indranee de Silva

Coming in from the cold to be a warm-up act sounds a pretty thankless task but Chris Conway and Dan Britton had their own inner glow - a new CD hot off the press - taking them closer to top billing.

That should not be long for this highly individual duo. Their own songs really held me, in particular Britton's Wish and Conway's extraordinary Carousel.

With fabulous instrumentation, they also turned in some timeless ballads, including my favourite, the Fairport Convention version of Matty Groves.


buy cd
only £9 - free postage also available from
Amazon.co.uk
CDBaby

you might also like...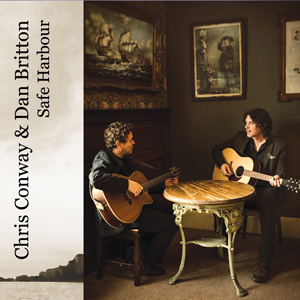 Safe Harbour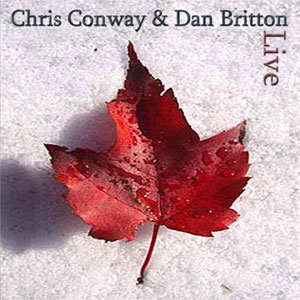 Chris Conway & Dan Britton - Live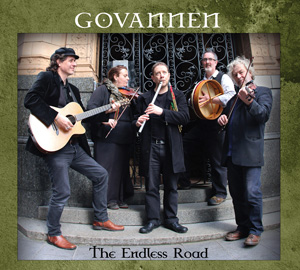 Govannen - The Endless Road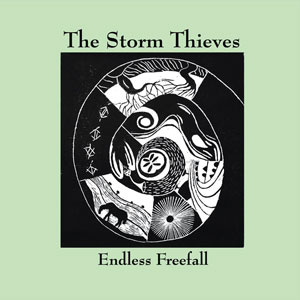 The Storm Thieves - Endless Freefall