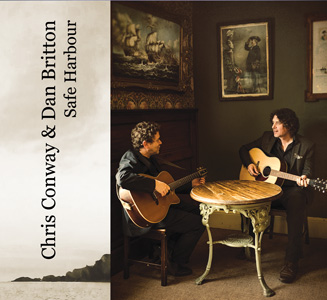 | | |
| --- | --- |
| 1 | The Storm |
| 2 | Surprise Me |
| 3 | Song For Eric |
| 4 | Leaf Boat Dreams |
| 5 | Where Will You Be? |
| 6 | The Wishing Tree |
| 7 | The Ballad Of The Brittons |
| 8 | Train Of Thought |
| 9 | Three Fishers |
| 10 | Magical Rooms |
| 11 | West Country Traveller |
| 12 | Journey's End |
Chris Conway -

vocals, 9 string guitars, piano, keyboards, Irish whistles, bombarde, kalimba, zither, percussion

Dan Britton -

vocals, guitars, mandolin, bodhran, percussion

special guests

Neil Rabjohn -

cajon drum, percussion -1-10

Adele McMahon -

violin - 1, 4, 6, 7, 12
Roger Wilson -
violin - 9
2, 4, 6, 8, 10, 12 - by Chris Conway
1, 3, 5, 7, 11 - by Dan Britton
9 by Charles Kingsley/ arr Garnet Rogers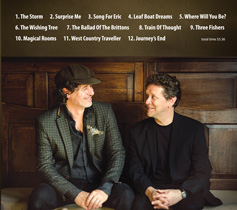 Their first duo studio album in 15 years!
With new songs and old favourites songs from their live set, behold, a new Chris Conway & Dan Britton album.


background
Studio album by singer songwriters & multi-instrumentalists Chris Conway & Dan Britton - their first duo studio album in 15 years!

Despite being very busy with Celtic band Govannen, Chris & Dan had never stopped playing concerts of their own songs in a duo, often augmented by Neil Rabjohn's percussion. But they never had the time to go back to the studio.

Sometime around the start of 2016, Dan had recorded a couple of songs with Chris about his family history which were put out on Youtube. Then they started to really enjoy the duo concerts. Somewhere along the line they decided to write some news songs, combine them with songs from their solo albums that were firm favourites in their live set, and record them. They decided soundwise to go more for natural sounds, more piano & guitars and less synths and organs. This they did here and there throughout 2016, with Chris adding more to the ones Dan had originally recorded. Then suddenly it was done.

Dan brought in songs about his family history, and losses that touched his life. Chris brought a mix of magic, love, and memories.



video
Safe Harbour

influences
David Crosby, Alan Stivell, Stephen Stills, Van Morrisson, Bob Lind, Mike Scott, Waterboys, Neil Young Paul Kantner, Buffy Sainte-Marie, Jesse Colin Young.



trivia
The album features 3 new recordings of songs from their solo albums...

Song For Eric was first recorded on Dan's solo album Turn The Stars Upside Down album.
Train Of Thought was first recorded on Chris's My Mind's Island album.
The Wishing Tree was first recorded on Chris's Time Traveller album.



notes

1. The Storm (Britton)
A song inspired by Dan's family history and of the herring boat diasaster that killed 3 of his relatives.

2. Surprise Me (Conway)
When one is feeling world weary, in a crazy world, we love those who can still surprise us.

3. Song For Eric (Britton)
Dedicated to Eric Roach, a brilliant guitarist who left us too soon. Dan recorded a version of this on his Turn The Stars Upside Down solo album but Chris & Dan have been playing it live for a long time.
4. Leaf Boat Dreams (Conway)
One of CC's Celtic, kalimba, drone songs about childhood memories of playing with leaf boats on a stream, and the lessons it left him with.
5. Where Will You Be? (Britton)
A song to great friend and musician Robbie Murphy, a special friend to Dan and much missed by both.
6. The Wishing Tree (Conway)
A magical song about a tree that grants your secret wish rather than your actual wish. Chris recorded on hs Time Traveller solo album - this version is livelier to suit the Chris & Dan dynamic.
7. The Ballad Of The Brittons (Britton)
Dan became fascinated by his family history which revealed Brittons all over the world. This is a ralying cry to his clan.

8. Train Of Thought (Conway)
Chris & Dan have been singing this train journey song live for many years. Dan played on Chris's original recording of the song on his My Mind's Island album and is his favourite Conway song so a new verswion was a must.

9. Three Fishers (poem Charles Kingsley 1851/arr Garnet Rogers)
Charles Kingsley worte a poem about the herring boat disaster that killed 3 members of Dan's family. A number of tunes have been put to this song but this one is by Canadian fiddle player Garnet Rogers.
10. Magical Rooms (Conway)
A bossa visiting the magical rooms and memories made in the stages of Chris's life.

11. West Country Traveller (Britton)
A little country song Dan wrote for his dad. Just Dan & Chris, guitar & piano, and a late night feel.
12. Journey's End (Conway)
Friends, heroes & heroines seem to be leaving us. Written the morning after Paul Kantner from Jefferson Airplane/Jefferson Starship passed away. A wistful song but one that leaves us with a feeling that we will meet again.


reviews
CHRIS CONWAY & DAN BRITTON
Safe Harbour
****
Chris and Dan celebrate twenty-five years of working together, in Safe Harbour, the pair's third album as a duo. They've also pursued active solo careers during that time, with Conway in particular a prolific songwriter, composer and recording artist across an array of styles, while both play in Celtic outfit, Govannen.

Safe Harbour, released on Conway's own label, is a fine collection of songs – six from Conway and five from Britton. There's also a cover of Charles Kingsley and Garnet Rogers's 'Three Fishers', which references the 1838 Clovelly fishing disaster, as does opening track 'The Storm' from the pen of Britton, three of whose ancestors perished when twelve boats and twenty-six men left for the herring fishing grounds; only one vessel would return after a storm in the Bristol Channel.

Much of Britton's material draws its strength from his West Country roots and personal experience ('Song For Eric' is about the death of a friend) while Conway's reveals something of the musical and spiritual traveller. His near-seven-minutes-long 'Magical Rooms' is arguably the album's standout track, reflecting on what makes him who he is and how he got there.

The entire album is a delight, though – satisfyingly rootsy in places (fiddles, mandolin, Irish whistles, bodhran, kalimba and more contributing to the overall mood) with a little jazzy piano here and there in the mix. Strong songs are graced by warm, mellow voices, often in ambitious arrangements, and all beautifully produced in Conway's home studio. David White - R2 Magazine