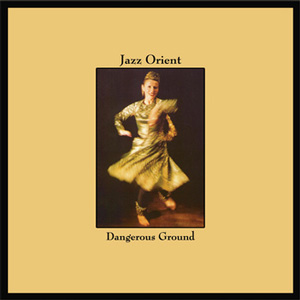 | | |
| --- | --- |
| 1 | Dangerous Ground |
| 2 | Girls And Boys |
| 3 | Sunset |
| 4 | River Cycle |
| 5 | Unforgotten Days |
| 6 | Tarana (14 beat cycle) |
| 7 | Mountain Steams |
| 8 | Garuda |
Baluji Shrivastav -

sitar, tabla, vocals, percussion

Linda Shanovitch -

vocal, ankle bells, dance, percussion

Chris Conway -

piano, keyboards, acoustic 9 string guitar, vocals, bamboo flute, bombarde, zither, kalimba, percussion

+ special guest

Gerald Wells- tabla - track 5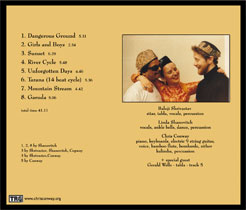 Jazz Orient's first recording - remastered on CD for the first time.
This Indo-jazz fusion band's first album set their stall out. 4 pieces went on to be recorded again with different arrangements and line-up on later albums but here is where it all started.


background
Jazz Orient's first recording from 1991 remastered here on CD for the first time. It had been thought that the master to this album had been lost but has just recently been found.

Recorded at Linda & Baluji's house on borrowed multitrack recording equipment, the album finds them in very creative form laying down the first recordings to 4 pieces that would become cornerstones of their set for many years. Inbetween these pieces are improvisations.

Gerald Wells - guest tabla player and regular guest with Jazz Orient passed away several years ago - this re-release is dedicated to his memory.


influences
Flora Purim, Piirpauke, Oregon, Kolinda, Paul Winter, Trilok Gurtu



trivia
1, 2, 8 - by Linda Shanovitch
4, 7- by Conway/Shrivastav
3 - by Conway/Shrivastav/Shanovitch/
5 - by Chris Conway
6. - by Baluji Shristav

Several tracks went on to be recorded and relased on future albums with different line-ups and arrangements.
Dangerous Ground was later recorded on Live At The South Bank and Undiscovered Time
Unforgotten Days was recorded on Indian World Music Fusion CD
Garuda was recorded with no lyrics on Indian World Music Fusion

Sunset - became a template for improvisation (3 voices and keyboards) that Jazz Orient used often in concerts and recording.



CC's fave track - Sunset