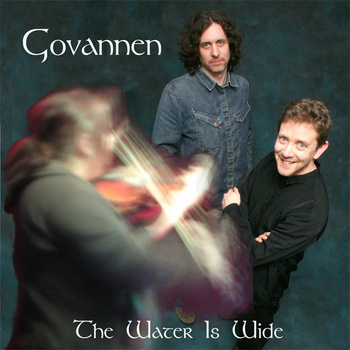 | | |
| --- | --- |
| 1 | When Will We Be Married |
| 2 | Junior Crehans |
| 3 | The Sally Garden |
| 4 | Mickey the Moulder |
| 5 | As I Roved Out |
| 6 | Sparkys |
| 7 | Ride On - (CD only) |
| 8 | Queen of the May/The Congress |
| 9 | The Water is Wide |
| 10 | Morrison's Jig |
| 11 | Fairytale of New York - (CD only) |
| 12 | King of the Fairies |
| 13 | Deja Blues |
| 14 | Wheelans |
| 15 | The Wild Rover |
Adele McMahon - violin

Dan Britton -

acoustic guitar, vocals, bodhran, percussion, harmonica

Chris Conway -

tin & low whistles, keyboards, acoustic 9string guitar, vocals, kalimba, percussion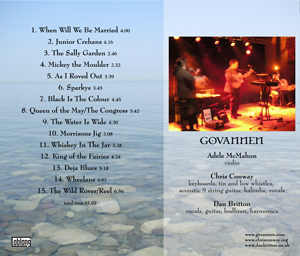 Celtic band Govannen live, playing a set of traditional and contemporary Irish songs and uptempo jigs & reels.
If you've seen Govannen live this will bring back happy memories.


background
Having recorded an instrumental atmospheric album Healing Waters, the band wanted a CD to show what they do live. Alternating songs and jigs & reels with the odd ballad and even a blues The Water Is Wide is just that.

This album is many people's souvenir of a great night out with Govannen. Adele's fiddle is the real star of the album.



influences
Alan Stivell, Donal Lunny, The Waterboys, Shane McGowan, The Pogues, The Moving Hearts, Planxty, Ray Charles



trivia
Recorded live at The White Hart pub in Melton Mowbray - it started as quite a quiet night but this actually made for a better live recording - things heated up at the end of the evening and Govannen went with it.

The band still often start the night with When Will We Be Married and Junior Creehans to warm them up.

Morrison's Jig has also been recorded as Port Ui Mhuirgheasa on Chris Conway's Storming album and The Storm Thieves Up To The Sun. Govannen alos have recorded it with The Kesh on Sniff The Pony and Celtic Fire.

Different versions of Queen of the May/Congress appear on Sniff The Pony and Celtic Fire.

The album was remastered in 2012.

CC's favourite track - Wheelans