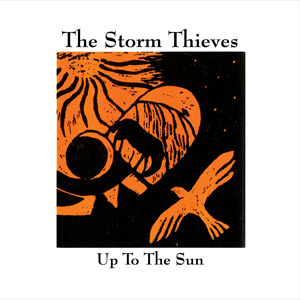 | | |
| --- | --- |
| 1 | The Snow and the Fire |
| 2 | Time to Talk |
| 3 | Port Ui Mhuirgheasa |
| 4 | Tell Me Once More |
| 5 | My Town |
| 6 | Long Day's Waiting |
| 7 | The Field Road |
| 8 | Dreaming for the People |
| 9 | Turn Away |
| 10 | Hidden Beauty |
| 11 | These Days |
| 12 | Forget About You |
| | |
| --- | --- |
| Dave Everitt - | vocals, acoustic & electric guitars, double bass, zither |
| Dan Britton - | vocals, acoustic & electric guitars, double bass, bodhran |
| Chris Conway - | vocals, acoustic & electric 9string guitars, keyboards, tin whistle, kalimba, electric mandolin |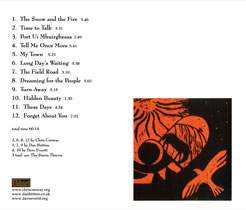 Three great singer songwriters get together to produce something special.
Remastered re-release of their stunning debut album. Great songs, harmonies and playing Like a kind of Celtic tinged Crosby Stills & Nash.


background
After their 1st album Up To The Sun had been suich a success, the 3 went into Dave's home studio to record another album as they had done before - directly live onto digital tape.

Endless Freefall is a bolder stronger album in some ways - vocally stronger - they just seemed to go for it instrumentally too. A reflection, perhaps, of the many live gigs they had played together by this time.


influences
Crosby, Stills Nash & Young, Van Morrisson, Alan Stivell, Mike Scott, John Sebastian, Jesse Colin Young, Waterboys


trivia
2, 6, 8, 12 by Chris Conway
1, 7, 9 11 by Dan Britton
4, 10 by Dave Everitt
5 by Britton/Conway
3 trad. Ireland arr The Storm Thieves

Porth Ui Mhuirghaesa was also released by CC on his Storming album

Forget About You - CC re-recorded a new version on his Close the Circle CD. The Storm Thieves version was recorded at 4am after a walk round Burrough Hill.

Long Day's Waiting was re-recorded on Storming and on Chris & Dan's Just Be Real CD - Dan's Snow & The Fire classic being re-recorded on the latter.

Dreaming for the People was about a busker friend of CCs Toffy McDougall.

Cover art is by Sally Wilson

The recording just took 3 days. Getting the levels right for live to 2 track DAT took much of the time.

CC's fave track -Porth Ui Mhuirghaesa