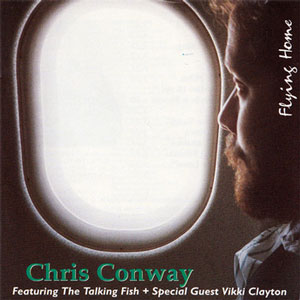 | | |
| --- | --- |
| 1 | Coming In To Land |
| 2 | Storyteller |
| 3 | I Want Something |
| 4 | Sail On |
| 5 | Borderline |
| 6 | A Thousand Miles |
| 7 | Cad é sin don té sin/Lighthouse in a Storm |
| 8 | Burn |
| 9 | Writing in the Sand |
| 10 | Write You Down |
| 11 | The Lilting Banshee |
| 12 | Always Flying Home |
| 13 | Coming in to Land (feat. Vikki Clayton) |
| 14 | Make it Real |
Chris Conway -

vocals, acoustic & electric 9string guitars, keyboards, tin whistle, bamboo flute, kalimba, mandozither, percussion

The Talking Fish
Simon Styring -
electric & classical guitars, vocals

Neil Segrott -


bass, electric & classical guitars, vocals

special guest
Vikki Clayton - vocals on 13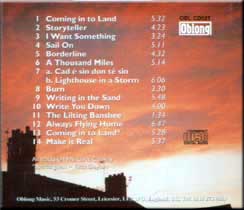 A wonderfully warm set of songs concerning distances and journeys.
Stunning harmonies throughout from The Talking Fish. Featuring special guest Vikki Clayton on 1 track.


background
Flying Home is a very chilled sounding album. After the hard work to sound varied and lively on his debut, Christo wanted to make a more laid back album with a mellow atmosphere throughout.

He chose to do it with his Talking Fish trio and focus on their excellent harmonies. He had a lot of new songs to bring to the album.

This also marked the time CC worked with Vikki Clayton - he had just assited with her demos for her Movers & Shakers album and plucked up courage to asked her to sing on this album. He went on to join her band. It was at this time he started touring Germany.


influences
David Crosby, Buffy Sainte-Marie, John Sebastian, Alan Stivell, Dan Ar Braz, Jesse Colin Young


trivia
The presence of Vikki Clayton on the album at a time when she hadn't had a release for a while did wonders for sales, especially when he started played gigs with her.

He also realised after making this album how many tracks were to do with journeys and distances - something he puts down to moving home a lot as a child.

In 2014 Vikki Clayton recorded a new version of Coming In To Land for her forthcoming album.

CC's fave track - Coming In To Land