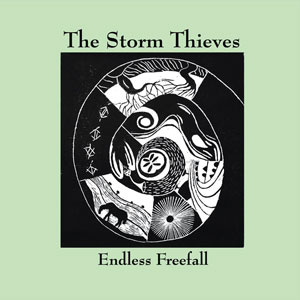 | | |
| --- | --- |
| 1 | Wish |
| 2 | Long Time |
| 3 | Easier Said Than Done |
| 4 | Angel |
| 5 | Road of Dreams |
| 6 | Dawn Bird |
| 7 | Endless Freefall |
| 8 | Now We Know |
| 9 | Lost to the World |
| 10 | Three in the Morning |
| 11 | Plinn/Circle |
| 12 | No More Tears |
| | |
| --- | --- |
| Dan Britton - | vocals, guitars, bodhran, harmonica, drums, percussion |
| Dave Everitt - | vocals, guitar, double bass, percussion, special effects |
| Chris Conway - | vocals, acoustic & electric 9string guitars, keyboards, flutes, kalimba, percussion |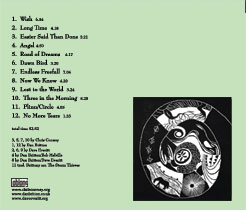 A compelling combination of songs, harmonies, and interactive playing.
Remastered re-release of their 2nd album. The album was recorded live in the studio and has a strong driven feel.


background
After their 1st album Up To The Sun had been suich a success, the 3 went into Dave's home studio to record another album as they had done before - directly live onto digital tape.

Endless Freefall is a bolder stronger album in some ways - vocally stronger - they just seemed to go for it instrumentally too. A reflection, perhaps, of the many live gigs they had played together by this time.


influences
Crosby, Stills Nash & Young, Van Morrisson, Alan Stivell, Mike Scott, John Sebastian, Jesse Colin Young, Waterboys


trivia
CC released his songs from this album on his Storming album - a compilation of his Storm Thieves work.

Wish was re-recorded on Chris & Dan's Just Be Real CD.

Cover art was by local artist Sally Wilson.

Like Up To The Sun, the album took 3 days to record.

Easier Said Than Done took many many takes as they kept getting giggles in the first verse. Dave & Dan thought Chris had sung "mammaries" instead of "memories" on the line "And the memories seem so near". After many takes and they had put childish laughter behind them and regained their composure, they had another take and got past the line - hurrah! - only to find the next line was "I could reach out and touch each one" ... Well that was the end ....they had to break for tea and start again. Many times...

Angel was a song Dave & Dan brought from their previous band The Horse Thieves.

Plinn is a traditional Breton tune.

3, 5, 7, 10 by Chris Conway
1, 12 by Dan Britton
2, 6, 9 by Dave Everitt
4 by Dan Britton/Rob Melville
8 by Dave Everitt/Dan Britton
11 trad Brittany atrr The Storm Thieves

CC's fave track -No More Tears