Chris Conway - Piano Natural / Sanctuary


| | | |
| --- | --- | --- |
| 1 | Honesty | mp3 |
| 2 | Cry from the Past | mp3 |
| 3 | Beyond Distance | mp3 |
| 4 | Zero Horizon | mp3 |
| 5 | Cry for the Mountains | mp3 |
| 6 | Kishori | mp3 |
| 7 | One Day Never | mp3 |
| 8 | Now and Then | mp3 |
| 9 | Folklore | mp3 |
| 10 | I Will Know | mp3 |
| 11 | Souling | mp3 |
| 12 | Mantra | mp3 |
| 13 | Kindred Vision | mp3 |
| 14 | Sanctuary | mp3 |
| 15 | Honesty Revisited | mp3 |



An album of evocative atmospheric solo piano music
Composed by Chris Conway over the last 20 years. The sheer beauty of the themes and the delicacy of the playing, and the atmosphere that pervades the whole album make this a remarkable recording.

"a solo piano feast, very much aimed at soothing the furrowed brow. Atmospheric, refelective, calming." - Musician Magazine.



background
This album is something of a promise to myself finally kept. When I first became interested in piano music as a boy I was greatly influenced by the classic ECM piano album by ECM artists like Steve Kuhn & Richard Beirach, and to a lesser extent Chick Corea and Kieth Jarrett. As a result I wrote a great deal of small evocative piano pieces. I always wanted to record some of them.

20 years went by. I got busy in other areas of music. Picked up many more influences, the minimal music of Terry Riley, Indian, Balkan, Celtic musics. Then I was asked to make just such an album of piano music.

It was quite an emotional process recording these pieces, choosing them, arranging them, putting them together so they flow. Hearing the old influences and the newer.I'm very happy with the result.
Like coming full circle.



the whole album on youtube




influences
Steve Kuhn, Rainer Bruninghaus, Richie Beirach, Bobo Stenson, Erik Satie, Terry Riley, Alexander Scriabin, Kenny Wheeler, John Taylor




trivia
Different arrangements of Beyond Distance can be heard on The Rain Garden album Closer To The Flame as "Distances" and on the Chris Conway's Happy Landings album Think Blue, Count Two as "Journey Beyond Distance"

2 versions of Kishori can be heard on The Rain Garden's The Rain Garden on Ritual of the Sky People album.

Cry For The Mountains has been recorded previously as a jazz tune (on Breathtaking CD) and a song (on Live! CD).

Another arrangement of Folklore was recorded with The Rain Garden on their Closer To The Flame as the first part of "Life is for Living".

When Chris was at the New Walk Museum recording this album, he also added piano to a track for singer-songwriter Dave Wyatt's album China on Paper Planes.

CCs favourite track - Cry From The Past


Recording session
Some rough videos taken of CC warming up while the recording crew set up the equipment at the New Walk Museum, Leicester. Not great quality videos, but it gives you a feeling for how the album was recorded.





track by track

These pieces I have composed come from over 20 years of writing. I've written plenty of pieces of music over the years, but these are the ones I often return to - especially at quiet moments. My own safe places in a busy world. I hope they will be a sanctuary for you too.






1. Honesty 3.24
A tune dating back to the earliest days of playing with the group The Rain Garden - 1989. Then it was for sequencer, sitar and guitar.

2. Cry From The Past 3.21
I used to play this on guitar, in fact was originally written on it. I switched to playing it for piano with my jazz trio. It now suits being solo very well -one of my favourite of my tunes.

3. Beyond Distance 4.50
Used to play a version of this piece with my Happy Landings jazz trio in about '95 but it was a solo piano piece first.

4. Zero Horizon 2.30
I rediscovered this on an old cassette tape I'd made in 1980 - a thrill to find it again as it was a favourite of mine.

5. Cry For The Mountains 2.58
This has been recorded previously as a jazz tune (on Breathtaking CD) and a song (on Live! CD). Now here is the solo piano version.

6. Kishori 2.40
This piece is in 7/8 and was inspired by an improvised line of vocal by Indian Classical singer Kishori Amonkar. I first played this with The Rain Garden on Ritual of the Sky People CD

7. One Day Never 3.31
An old solo paino tune which I later played with my jazz trio for some years.

8. Now and Then 3.20
This used to be part of a bigger piece Flourescant Sea which I hope to record one day.

9. Folklore 4.49
Another tune from The Rain Garden band days - I was listening to a lot of European folk fusion music when I wrote this.

10. I Will Know 4.51
Quite a new composition. A response to and a sister piece to I Will Know on the Breathtaking CD

11. Souling 2.06
I love improvising and tho i was keen to record many of my classic tunes I wanted to include a spontaneous piece too.

12. Mantra 2.15
I used to play this in my Solaris jazz quartet back in the 1980s - we'd improvise around it, come back toit - kind of freeform. I always liked the fresh sound of the tune and how it winds around it's 36beat cycle.

13. Kindred Vision 2.52
Justa set of descending chords but I alwasy enjoy playing it - it again dates from early jazz trio days - the early 90s.

14. Sanctuary 7.32
I always wanted to record this piece and am so glad to now

15. Honesty Revisited 0.51
Was fun to maike this minimal arrangement - I tend to like cyclic form on CD

total time 52.27


reviews

While the multi instrumentalist Chris Conway maybe a new name for this reviewer, this US born talented musician has been recording music for many years. In fact, his website indicates that he has been involved in over 35 recordings in some capacity. An artist with the wanderlust desire to express, Conway refuses to be restricted by either genre or his instrumental voice. However, Sanctuary is a very successful attempt in placing the artist behind a grand piano to record compositions that he has recorded over a 20 year period.

Despite featuring compositions that Conway has created over time, the album has a very spontaneous and improvised feel to it. For the most part the tracks have a very loose structure to them allowing Conway to weave around on the keys but in a very contemplative fashion. The songs with the greater frame work and melody standout include the tracks such as "Beyond Distance", "Cry For The Mountains" and "Mantra". Though melodically, "Kishori" is by far the most memorable track.

From a completely different angle, Conway's title track "Sanctuary" clocks in over 7 minutes and has an expansive style reminiscent of the Great Improviser Michael Jones. Recorded live and produced by the artist himself under the watchful ear of Llewellyn, the sound quality is notable. Meanwhile, if you are looking for the more eclectic Conway, check out the remarkable River Of Life released the same year where he plays just about everything but the kitchen sink.

There is no doubting the talent of this multi-instrumentalist who is equally at home on the piano as he is on the guitar and the many other instruments that he is more than capable of playing. From the album cover to the musical content, Sanctuary is a very purposeful album that is focused on providing us with a quiet backdrop during our retreat from the everyday hustle and bustle of life.

Reviewed by Michael Debbage

When you've been the driving force behind 30 first-rate albums and witnessed the simultaneous release of six CDs, you certainly have arrived. Chris is a Midlands pianist of no mean ability in addition to being a talented multi-instrumentalist, singer and composer.

This work is a solo piano feast, very much aimed at soothing the furrowed brow and tense muscles of the modern man. Always concious of how it will become a part of the listener's environment, Chris deliberatley markets each CD for specific use ; for meditation, as ambient background for yoga, for healing, etc, and offers a deep well of sustenance.

Atmospheric, refelective, calming. Superior.


"Pick of the bunch for me is the piano album, Sanctuary, which is less definable by the New Age label than the rest, though all stand head and shoulders above most of what passes as such.

That Conway continues to languish under the radar, as that rather expressive American phrase would have it, is something that simply baffles me. Perhaps the recent news, that Brazilian jazz diva Ithamara Koorax plans to record one of Conway's songs, might raise his profile a little.

In jazz circles, at any rate. And next time you're in the local mind-and-body store getting your chakras realigned, check out the music playing in the background. It might well be Chris Conway, offering a little sanctuary. "

Dave White

What we thought: Calm and totally relaxing!
Perfect for playing in your therapy room, or anywhere else for that matter, very relaxing listening. We all enjoyed this CD very much. Jan

previously released as Sanctuary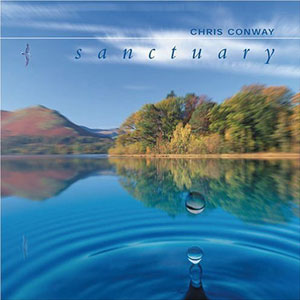 buy cd

only £9 - free postage
also available at
Amazon.co.uk
Amazon.com


downloads
and all leading download sites
you might also like...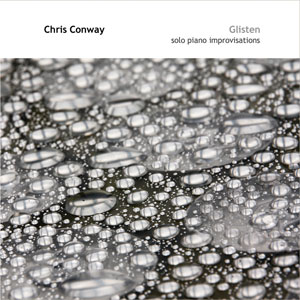 Glisten
solo piano improvisations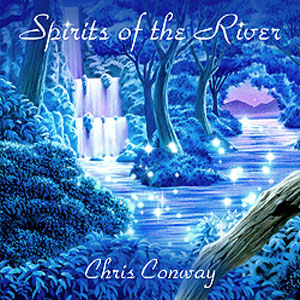 Spirits Of The River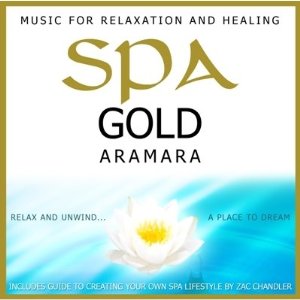 Aramara - Spa Gold
more Chris Conway
ambient & new age
more Chris Conway
jazz