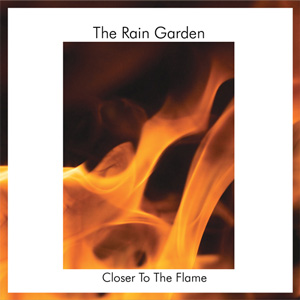 | | |
| --- | --- |
| 1 | Whales in the Attik |
| 2 | Five Rivers |
| 3 | Escape |
| 4 | In D |
| 5 | Life is for Living |
| 6 | Distances |
| 7 | Whales Go Free |
| 8 | New Wandering Way |
| 9 | Must Remember... |
| 10 | The Ritual Begins |
| 11 | Closer to the Flame |
| 12 | On Swept The Ritual |
| | |
| --- | --- |
| Carl Peberdy - | sitar, tabla, bamboo & tin whistles, hammer dulcimer, lyrebec, bodhran, voice, zither, qen, naal, bamboo & brass horns, swanny whistle. |
| Chris Conway - | keyboards, acoustic 10 string & electric 9 string guitars, flute, bamboo flute,laud, voice, zither, qen, double bass, kalimba, tin whistle & horn. |
| Mary Browne - | voice, percussion, alto saxophone, keyboards, tin whistle, tanpura |
| Sudha Kheterpal - | Morrocan drums, naal, piping, tabla, kalimba, zither, swoosh, matches |
| Dave Everitt - | double bass, tin whistle - 4, 5, 6, 11 |
2 - by Carl Peberdy
9 -by Mary Browne
5, 6, 8 - by Chris Conway
4, 11 - by Conway, Peberdy, Browne, Kheterpal, Everitt
1, 3, 7, 12 - by Conway, Peberdy, Browne, Kheterpal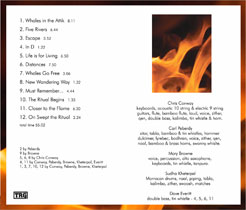 A classic atmospheric album of world music fusion.
A huge array of instruments weave a path through many different styles - Indian, jazz, Celtic, Balkan, ambient, improvised music and more. Throughout is the powerful atmosphere that defined The Rain Garden sound.


background
The Rain Garden, now in 4 piece (and occasionally 5 piece) mode. Percussionist Sudha Kheterpal (now with pop band Faithless) adding a more solid percussive base to the groups sound and freeing the others to roam on a wider range of instruments. The whole session had a refreshingly exploratory feel as ideas were freely exchanged and tired out.

The musicians gathered in an Mary's attik studio and over the course of several days produced some extrordinary music.

There was a real creative freshness on this album. New ideas were flowing back and forth and the improvisations were especially stunning. The album feels at times like a sacred ritual.



influences
Oregon, Alan Stivell, Stephan Micus, Okay Temiz, Terry Riley, Collin Walcott, ECM



trivia
Another version of Life is for Living can be heard on Re-Orient's Seven Steps to the Sun album.

In D is a reference to Terry Riley's classic In C.

Different versions of Distances appear on Chris Conway's Sanctuary/Piano Natural album as "Beyond Distance" and Chris Conway's Happy Landings album Think Blue, Count Two as "Journey Beyond Distance"

The openng sound on the album was produced by Sudha whirling a tube of plastic piping round and round over her head.

This album marks the first time Dave Everitt recorded with the group.

The title "Closer to the Flame" came about accidentally when the band were making toasted cheese under a gas grill in a lunch break.

CC's fave track -Closer To the Flame