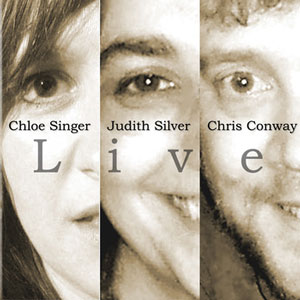 | | | |
| --- | --- | --- |
| 1 | Nightbird | CS |
| 2 | The First Day of the Rest of Your Life | JS |
| 3 | My Mind's Eye | CC |
| 4 | Waveform | CS |
| 5 | Trust Me | JS |
| 6 | Train of Thought | CC |
| 7 | Sweet Arrow | CS |
| 8 | Waiting | JS |
| 9 | Coming In To Land | CC. |
| 10 | Easy Breathing | CS |
| 11 | When You Say Those Things | JS |
| 12 | Wonder | CC |
| 13 | Make Your Own Kind Of Music (CD only) | BM/CW |
| | |
| --- | --- |
| Chloe Singer - | vocals, guitar, percussion |
| Judith Silver - | vocals, guitar, percussion |
| Chris Conway - | vocals, keyboards, 9 string guitar, tin & low D whistles |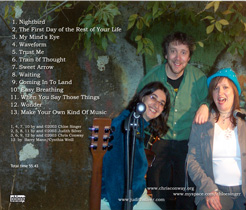 A classic concert.
Three amazing singer-songwriters caught live and jamming on each other's songs. A great concert with a warm vibe.


background
Three singer songwriters were booked to play triple bill on an acoustic feature night at The Musician venue in Leicester. CC had worked with Judith and Chloe individually, though until that night Judith and Chloe hadn't met.

They decided to all go on stage together and sing along with each others songs. All three are instinctive harmonisers and to their voices blended beautifully.

The spontineity and good vibes made for a really memorable night - the atmosphere was electric and yet close and intimate. Three players sharing their songs with eachother and the audience.


influences
David Crosby, Joni Mitchell, Buffy Sainte-Marie, James Taylor, Jesse Colin Young, Cass Elliott


trivia
The concert was held on Chloe's birthday.

A couple of years later when Judith came to play with Chris in Leicester, Chloe came up and sang harmony vocals on a few songs.

Chloe's songs were gathered together for a solo album

There was another encore that was not recorded - it was Brian Wilson's song Love And Mercy.

CC's fave track -Make Your Own Kind Of Music