Chris Conway - Live & Peace & Outer Space
Greatest Hits Live

background
I have often been asked for a live recording of songs away from all the big studio production. I also have wanted an album which contained all the songs I tend to play live a lot as audience buying a CD will want any number of songs which are spread across 10 studio albums.

The perfect occasion to record this came at my 20th Anniversary Concert, celebrating 20 years professionally in music. I ran through a lot of my songs from all eras - I had a great band and Vikki Clayton guesting.

So here it is - a single disk crammed full (79mins) with all of the songs you might catch me sing at a concert.



influences
David Crosby, John Sebastian, Alan Stivell, Paul Kantner, Country Joe McDonald, Jesse Colin Young, Buffy Sainte-Marie, James Taylor, Jimmy Webb


trivia
A DVD of the whole concert is available.

Studio versions of tracks -
Proud Of You, I Don't Know, Train Of Thought - My Mind's Island album

Alien Salad Abduction, Alien Jellyfish Song - Planet Theremin - Alien Salad Abduction album

Lifespell, Forget About You, Homecoming - Close The Circle album

Finally - Songs For Dreamers album

Call Of The Wild, Carousell - Just Be Real, Long Day's Waiting - Just Be Real album with Dan Briton

Coming In To Land, I Want Something - Flying Home album


CC's fave track -Three Headed Girl




reviews

R2 Magazine - Dave White
CD review

Celebrating twenty years of music making with a special anniversary concert in the aurtumn of 2009 at leicester's premier roots venue, The Musician, Chris Conway recorded the fun and released the results both as a double CD, and here as a selected highlights disc subtitled "Greatest Hits Live". That you've probably never heard Conway's music and that he's never yet scored a genuine chart-topper is typical of the man's gentle humour, though no reflection on the consistantly high quality of his material.
A writer and performer of classy, West Coast-style singer-songwriter fare, the Amercian, now domiciled in Blighty also boasts several other strings to his bow, and some of these are reflected across this nineteen track selection; there';s his love of science fiction (and tha aformentioned sense of humour) in his tonsil twisting Alien Salad Abduction, a mild obsession with spooky horro-flick-soundtrack instrument of choice - the Theremin, not to mention his skills as a multi-instrumentalist, evidence of which can be heard throughout. Don't let another 20 years go by without joining in the celebrations.




R2 Magazine - Jeremy Searle
concert review

CHRIS CONWAY
The Musician, Leicester
For the celebration of his twenty years as a professional musician, Chris Conway has rounded up friends and associates from all stages and phases of his career and his set list and instrumentation is equally wide-ranging. Filk (science fiction-based folk music, a genre in which Conway is very successful), Irish diddley diddley folk and plain old singer-songwriter pieces all makes regular appearances, though his more-esoteric electronic leanings are kept down to a single excursion on theremin.

Lyrics of the likes of 'Carousel' and 'Train Of Thought' act as a powerful and thought-provoking counterpoint. The gig is being filmed for a DVD, which leads to much entertaining hamming it up, staged entrances and applause from the large and warm crowd.

Highlights include special guest Vikki Clayton, Conway's playing of two whistles at once tour de force on his own 'Rainbow Real' and the reliably silly and entertaining 'Alien Jellyfish Song'. Yet it's not only a measure of Conway's professionalism that it all does ultimately come together, but also of the esteem in which he's held that the crowd don't drift off as the clock approaches midnight. It feels more like a gathering of old friends than a commercial gig, and that can only be a good thing.


buy CD

£9 inc free postage anywhere
also available from

cdbaby.com
downloads

Amazon UK
Amazon.com
Bandcamp
cdbaby.com
Listen
- hear the whole album
Buy -
download - £5
Share
- put this player on your blog/facebook/website

you might also like

Deep Space Love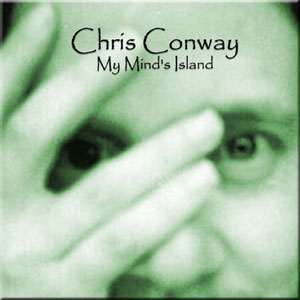 My Minds Island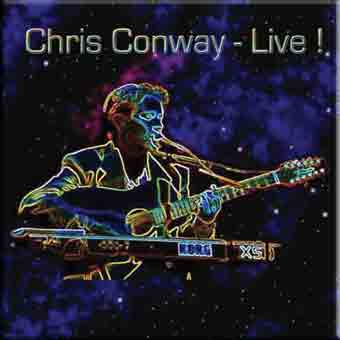 Live !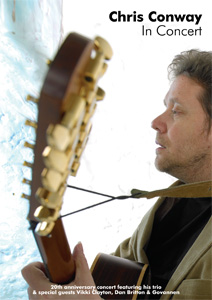 In Concert DVD