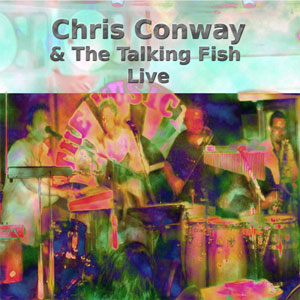 | | |
| --- | --- |
| 1 | Introduction - Welcome |
| 2 | Speak to Us of Freedom |
| 3 | I Dont Know |
| 4 | Introduction - The Vague Plan |
| 5 | Andromeda Bound/City Breakdown |
| 6 | Moondance (CD only) |
| 7 | To the Four Winds |
Chris Conway -

vocals, acoustic 9 string guitar, keyboards, synthbox, theremin, kalimba, low whistle, fx

The Talking Fish

-

Debbie Robinson - vocals, percussion

Mick Oxtoby - electric violin , fx

David Graham - tenor sax, clarinet

Andy Fitzsimons - congas, percussion

Paul Barnes - drums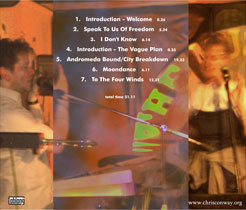 It happened one night...
A great psychedelic concert of songs with jams and electronic ambient interludes.


background
This really was a one-off concert. CC rang various cohorts from his jazz and acoustic song genres who came together to celebrate his more cosmic songs that don't often feature in his live sets.

Blending the electronic moments with the songs and the extended jamming with a great set of musicians made this such a special concert. The 20minute psychedelic jam of Andromeda Bound/City Breakdaown with electronic jamming passages is truly epic!.

A record of a great night.


influences
David Crosby, Buffy Sainte-Marie, John Sebastian, Alan Stivell, Dan Ar Braz, Jesse Colin Young, Van Morrison


trivia
The band play songs from My Minds Island, Alien Salad Abduction and Earth Rising albums

This is the only time the Talking Fish played in this format - a few regulars were unavailble so CC called in Paul Barnes and David Graham who basically winged it - great job guys! It is also the only live release with The Talking Fish.

The download version does not include Moondance but it is a FREE download.

CC's fave track -Andromeda Bound/City Breakdown