Chris Conway - Alien Salad Abduction




| | |
| --- | --- |
| 1 | Homeworld |
| 2 | Andromeda Bound |
| 3 | Hold On |
| 4 | Deep Space Phone |
| 5 | Alien Salad Abduction |
| 6 | Unicorn Girl |
| 7 | Skyrider |
| 8 | Fly High |
| 9 | The Alien Jellyfish Song |
| 10 | Echoes |
| 11 | Take Me Away |
| 12 | Space Temple |
| 13 | Virtual Girl |
| 14 | Planet Theremin |
| 15 | Wonder |
| 16 | So Long Blue |

Chris Conway -

vocals, keyboards, guitars, theremin, tin & low whistles, kalimba, zither, percussion, samples, effects, vegetables

- The Talking Fish
Debbie Robinson - vocals 2
Mick Oxtoby - electric violin 2, 15
Neil Segrott - bass, guitar 6, 11
Andy Fitzsimons - congas 2, 6, 8
Dan Britton - bodhrans 2, 11


+ special guests
Andy Nicholls - tenor sax 10, 12
Carl Peberdy - sitar, vocals 2, 6
Vikki Clayton - vocals 11
Kate Easton - vocals 7, 9
Roger Pugh - vocals 9
Andrea Dale - phone voice 4
- Urban Tapestry
Jodi Krangle - vocals 2, 9, 15
Allison Durno - vocals 9
Debbie Ridpath Ohi - flute 9



A huge album of songs on themes of outer space.
Featuring theremins, harmonies,instruments galore, electronica, strange songs and stranger interludes.
" A beguiling mish mash of Tamla, Steely Dan, bossa nova and cod cosmics." - Mojo Magazine



background
Christo was getting more involved with the Filk Community, and it gave him the idea of gathering his space songs together for a Filk album. It also allowed him to record in a more adventurous way than a folk-roots album would. Things also altered with the arrival of CCs new keyboard the Korg Triton and the Theremin.

Popular with filkers and non-filkers alike, there is some of CCs best song work on here. The instrumental interludes paved the way towards his later work in electronic and new age music.




influences
Paul Kantner, Country Joe McDonald, Teddy Randazzo, Little Anthony, Brian Wilson, The Gentle People, The Flower Kings, Lydia Kavina, Cheryl Wheeler, LTJ Bukem




trivia
This is CCs best selling songs album to date.

Recorded (and released) at the same time as My Minds Island album - anything too spacey or weird was syphoned off onto this album, where it grew into a filk based album.

Filk is science fiction folk music.

Deep Space Phone was taken froma genuine ansaphone message from Andrea Dale.

The 30 second interlude Planet Theremin has been used in a music education 15 CD and is also one of CCs most popular downloads.

So Long Blue was originally a jazz tune and can be heard as such on Chris Conway's Happy Landings CD Sky High

The closing section of Unicorn Girl started out in a jazz piece too and can be heard on Around Every Corner on Chris Conway's Happy Landings CD - Think Blue, Count Two

Unicorn Girl was very loosely inspired by the Michael Kurland book of the same name.

Echoes - the lyrics were written by Nicky Retallick

Planet Theremin was used in an American education 15CD pack called Music in Our Lives

CC's fave track - Wonder

track by track

1. Homeworld
I wrote this playing piano in a restaurant as the snow came down outside and I was reading a short story by Edward Bryant which was also snowbound.

2. Andromeda Bound
A complex history. The chorus was inpired by a Cheryl Wheeler song, the verse riff was inspired by a song by The Dead Poppies. The bridge came from another song of mine. I was always going to write "proper" lyrics to this but these just stuck. This was the first time I recorded with the theremin.


3. Hold On
A song written when I was a bit low and it inspired me to get stronger. I changed the rhythm to this Brian Wilson-like arrangement. A big inspiration was Teddy Randazzo's songwriting for Little Anthony.



4. Deep Space Phone
Andrea Dale left me a message on my ansafone. I had this image of an ansafone in orbit. Andrea's message was perfect for this - I alienized her voice a bit.

5. Alien Salad Abduction
Totaly inspired by the album cover art by Joel Nakamura which I found on the web. The melody was one I did on the whistle on a Dave Kirk album which must've stuck in my head. Recording the vegetables was quite a hard task - and a very silly one.



6. Unicorn Girl
Inspired by the book of the same name by Michael Kurland. Been singing this one for quite a while - used to play it with the Talking Fish. The end melody in 5/8 came from a jazz tune I used to play with Happy Landings. I think listening to The Flower Kings inspired this arrangement.



7. Skyrider
I found an old book of lyrics I never used. At first i added them to Space Temple but I prefered that without words. Then when Kate came round it seemed like a perfect thing for her to sing.


8. Fly High
The time dilation effect with faster than light travel is a theme I had wanted to write about since reading Lem's Return From The Stars.



9. The Alien Jellyfish Song
Already on the JBR and Live albums I still had to have this song on a filk album. Wanted to record with Urban Tapestry and when they started including this song in their set it seemed a good idea to re-record this classic, and to make it different do it kinda beaty. Jodi was a great female alien jellyfish.



10. Echoes
Space sister Nitallicka sent me this amazing post-apocolyptic prose out of the blue. It seemd to call out for spacey music. I was really pleased when the sax went on as it added a more human feel to the song. The first time I ever wrote music to another's words.

11. Take Me Away
Wrote this when I was fooling around with a new guitar tuning. The Grey Lady kinda from Life Magic & Love and Call of the Wild and Earth Child makes a re-appearance here.



12. Space Temple
Was fooling with theremin, vocals through a harmonizer, zither, and tin whistle - the sax just seemed right.

13.Virtual Girl
This was the first thing I did on my Korg Triton.This originally had a different rhythm and I was really just playing with the new machine. I liked it and it stuck. The words gave me a chance to blend 2 favourite things, cyberspace, and old movies.



14. Planet Theremin
I just had to overdub my new theremin. On a couple of tracks it is effected - once by a harmonizer and the other by flange echoe from my guitar effects.

15. Wonder
This nearly was on the MMI album but I wanted more acoustic stuff on this album and it is a pretty spacey song. Jodi recorded her part in Georgia when she was attending a filk con there.



16. So Long Blue
Used to be a Talking Fish favourite, then fell into disuse. Again the Triton rhythm brought this one back. Mastering this was a real headache, but I was happy in the end.
reviews

Holding Together magazine - bp

Two new shiny circles from Leicester's own David Crosby, both featuring our man on a plethora of instruments - guitars, keyboards, theremin, kalimba, zither, vegetables etc - and his trusty lieutenants the Talking Fish in support.

"Alien Salad Abduction" is a departure, and one of which Paul Kantner of Jefferson Starship would approve - a collection of songs with a spacey connection, a journey through the space-time continuum. if you like. "Andromeda Bound" even name-checks Grace and the Doktor of Space - and it's a suitably fine exploration. The title track, a highly amusing novelty song the first time around, is such a cleverly constructed composition it actually grows on you with repetition.

"Fly High" features more of those multi-Christos dissolving into each other like ghostly images; "Virtual Girl" a wry and witty musing on the vaguaries of modern romance ; and lets not forget the atmospheric linking pieces, XM/Copernican Rumbles style between several of the selections.
Both albums are recommended.



I never cease to be amazed at this prolific guy and the sheer amount of stuff he produces. Not only does he keep down a full-time pivotal role as multi-instrumentalist within the Vikki Clayton Band, but he's a prodigiously talented musician, singer, songwriter, composer and producer in his own right. This time he's released - simultaneously! - two brand new albums which showcase these talents to the hilt.

Describing Chris's music to the uninitiated is not easy, for its definitively genre-hopping nature ensures that it falls between an awful lot of stools - although it often settles on one or the other for long sittings! My Mind's Island is ostensibly the rootsier of the two albums, wherein we experience to the full Chris's skill in producing well-crafted and thoughtful songs with predominantly acoustic-based settings. Having said that, there's a fair helping of Celtic folk and ambient grooves in these songs too, and the relaxed yet committed, often deeply touching and generally life-affirming nature of the lyrics makes for an attractive 55 minutes of listening. The overlap with Alien Salad Abduction occurs in Chris's use of guest performers - notably selected members of band The Talking Fish augmenting Chris's own impressive array of instruments on around half of the tracks, with special guest contributions from ancillary vocalists (Vikki C, Judith Silver, Jodi Krangle et al.) too.

The songs on Alien Salad Abduction, though (as the title might well imply to the astute!), major more on the overtly witty, frivolous side of Chris's writing, the fully fledged space hippie having (almost) come of age on a veritable galaxy of songs embracing world, fusion, electronic, funky pop and nouvelle-jazz influences and embodying an intrinsic (if scattergun) whimsy that probably owes as much to Daevid Allen and Gong as to anything else in the musical universe. To be absolutely honest, I find some of Alien Salad a mite disposable, and you certainly have to be in the right mood to get the most out of this album, whereas My Mind's Island is more equitable and consistent (and lasting) in its impact. Chris may be hard to keep up with, but there's no denying the man's serious creativity or his perennial inventiveness.




Songbook - Dave White


Give 'My Mind's Island' a listen. You can't fail to enjoy the intelligently constructed songs, shimmering with musical colour, rich vocal harmonies and stunning instrumental work. Chances are you'll head straight back to the record store for 'Alien Salad Abduction', which offers more of the same though with a sci-fi/outer space theme (not at all as naff as one might reasonably expect) and with Conway's sense of humour more apparent.



Mojo Magazine



A beguiling mish mash of Tamla, Steely Dan, bossa nova and cod cosmics.



Chris Conway is a US born musician who has not been unknown in the British folk scene. He just released two cd's in the same year. The first is called alien salad abduction and the second one My mind's island.

Conway's style is singer/songwriter with a good folkrock touch. He gets help from Vikki Clayton and a whole group of good musicians. His cd My mind's island is I think the most popular one of the two. Nice songs brought in a relax and professional way. His voice is nice to listen to and he arranged his original songs into catchy pieces of music. Sometimes with only guitar but mostly with band. Strong fact is that even with band his music still sounds small and honest

Alien salad abduction has the same ingredients but has a less serious undertone. He experiences more with sounds and his arrangements are more adventures. Suddenly he also sounds much more modern, did he put more pleasure in this album than in the other one? The sound is just a little bit better. Both albums show a talented and singer songwriter who brings his music with fantasy and the right feeling. Both cd's are welcome additions to my collection.



buy cd

only £9 - free postage
also available from
CDBaby
Amazon.co.uk
Amazon.com
downloads


Amazon mp3
CDBaby


you might also like...


Deep Space Love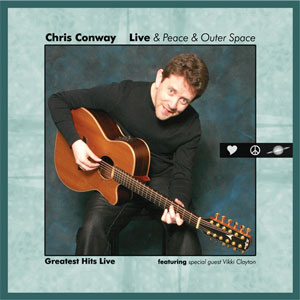 Live & Peace & Outer Space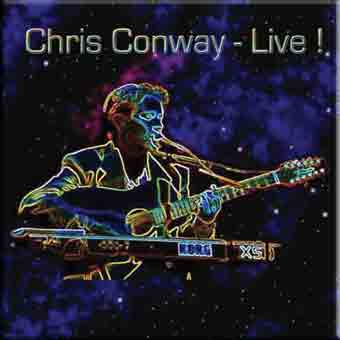 Live !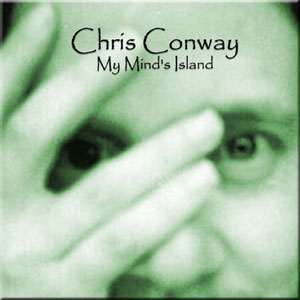 My Mind's Island