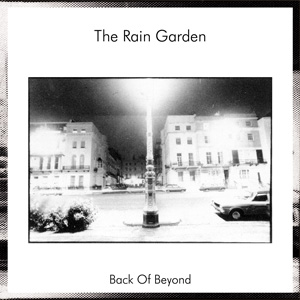 | | |
| --- | --- |
| 1 | A House Without A Key |
| 2 | Spinney Hill |
| 3 | Valle E Gajdes |
| 4 | Sunset Trail |
| 5 | The Fall Of The Leaf |
| 6 | Hypnoz - Fest |
| 7 | Both Ends Of The Day |
| 8 | Wilderness |
| 9 | The Green Room |
| 10 | The Conjurer's Dance |
| 11 | Savsatbari |
| 12 | Back Of Beyond |
| 13 | Through Shadows |
| 14 | Both Ends Of The Day II |
Chris Conway -

9 & 10 string guitars, piano, keyboards, laud, bombarde, wood flute, zither, sampled bass, sequencing, percussion, kalimba

Carl Peberdy -

sitar, tabla, bodhran, bamboo flute, huancayo drum, percussion, temple bells.

+special guests

Andy Nicholls - tenor saxophone - 5, 9

Renuka Russell - shakuhachi - 13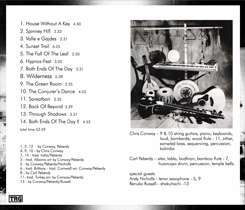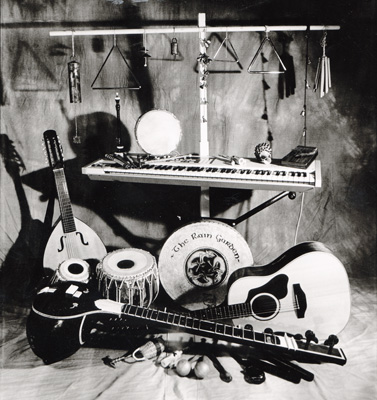 World music fusion duo comes of age.
Re-issued on CD for the first time, this lost gem is full of wonderful interplay and amazing arrangements.


background
This marked a step up from The Rain Garden's first cassette album In Another Sphere in terms of recording technology - a 4 track cassette recorder - and in sophisticated arrangements.

They also searched for traditional world music melodies - there are tunes here from Albania, Brittany, Cornwall, India, & Turkey.

They also had guests on 3 tracks adding sax and the Japanses flute, the shakuhachi.

The ECM label certainly was a big influence in style - Ralph Towner, Oregon, sitarist Collin Walcott, pianists Steve Kuhn, Rainer Bruninghaus, Stephan Micus can all be detected as influences, as can the level of reverb.



influences
Oregon, Ralph Towner, Collin Walcott, Steve Kuhn, Rainer Bruninghaus, Richie Beirach, Alan Stivell, Stephan Micus, Okay Temiz, Terry Riley, ECM



trivia
Remastered in 2013 from a 1989 cassette master - this might lead to the occasional flutter in sound.

1, 2, 12 - by Conway, Peberdy
4, 9, 10 - by Chris Conway
7, 14 - trad India/Peberdy
3 - trad. Albania arr by Conway/Peberdy
5 - by Conway/Peberdy/Nicholls
6 - trad. Brittany - Cornwall arr. Conway/Peberdy
8 - by Carl Peberdy
11 - trad. Turkey arr. by Conway/Peberdy

track titles
House Without A Key - a Charlie Cahn book by Earl Derr Biggers Chris was reading at the time.

Spinney Hill - the nearby park where Chris & Carl used to adjourn recording for samsosas for lunch.

Sunset Trail, The Fall Of The Leaf, Both Ends Of The Day, Through Shadows were all taken from books by Grey Owl that Chris & Carl were reading at the time.

In it's time as a cassette album, 410 copies were sold.

CC's fave track -Both Ends Of The Day II