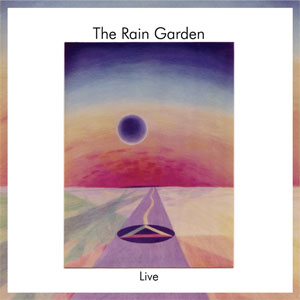 | | |
| --- | --- |
| 1 | The Source |
| 2 | Far and Wide |
| 3 | Valle e Gajdes |
| 4 | From The Vaults |
| 5 | Both Ends of the Day |
| 6 | Absent Friends |
| 7 | Mama Kuma |
| 8 | The Sea |
| 9 | The Island |
| 10 | Dhuniya |
| 11 | No Age |
| 12 | The Life of Riley |
| 13 | Ajam |
| | |
| --- | --- |
| Carl Peberdy - | sitar, tabla, bamboo & tin whistles, voice, lyrebec, bowed psaltery, door, percussion |
| Chris Conway - | keyboards, acoustic 9 & 10 string guitars, electric 9 string guitar, voice, tin whistle, bombarde, kalimba |
| Mary Browne - | vocals, percussion, bells |
| Suddha Kheterpal - | Morrocan drums, percussion |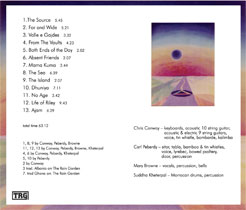 Captured live in concert at their inventive best
- the unique world music fusion of The Rain Garden. Recorded in atmospheric buildings, this is a stunning album of unique music blending world music from India, the Balkans, Africa and Celtic lands, jazz, minimalist and new music.


background
This album was recorded from many concerts in the 92 and 93 tours of The Rain Garden, and where they really developed their sound. As well as favourite classics which had been in the groups repetoire for quite a while, the group became increacingly interested in improvisation.

Also minimal music became increasingly important in in live performances - rather than all out free jazz, it became, on blending the various elements that made up the group, almost a means of instant composing.

Recorded in atmospheric venues such as ancient churches and deep wine vaults, this album captures The Rain Garden at their inventive best.


influences
Terry Riley, Azimuth, Oregon, Alan Stivell, Stephan Micus, Okay Temiz, ECM, Colin Walcott, Paul Winter



trivia
recorded digitally live at...
Springs Wine Vault, The Old Hall Hotel, Buxton
St Mary's Church, Beazot
St Michaels & All Angels, Hallaton
Jones Wine Bar, Chester
Cornmarket Hall, Kettering


From the Vaults was really recorded ina deep wine vault underneath the Old Hall Hotel in Buxton

The piece Far and Wide appears in a different arrangement on Govannen CD Healing Waters under the title the Wayfarer.

This album was the last album featuring percussionist Sudha Kheterpal. She moved to London soon afterwards joining bands K-Class, Faithless and she recently toured with The Spice Girls and has released a a solo album.

The title The Life of Riley is a reference to minimalist composer musician Terry Riley - the group often liked to include minimal music patterns influenced by Riley's pieces for electric organ.

Absent Friends was so titled as Mary had had to cancel playing that particular concert at the last minute due to ill health.

CC's fave track -The Life Of Riley