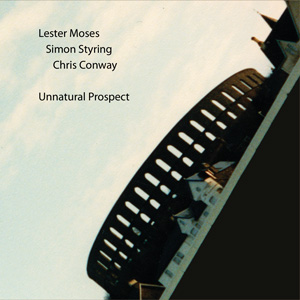 | | |
| --- | --- |
| 1 | Warmth, Interest (Perfectly Steady) |
| 2 | Homesick |
| 3 | Double Vision |
| 4 | Fair Seasons |
| 5 | You don't have to leave on my account |
| 6 | Stirring |
| 7 | Local Inhabitants |
| 8 | Shadow-play |
| | |
| --- | --- |
| Lester Moses - | flutes, soprano saxophone, kalimba, voice |
| Simon Styring - | guitars, tin whistle, kalimba, percussion, voice |
| Chris Conway - | keyboards, guitars, flutes, zither, voice, percussion |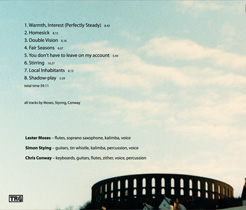 Free improvisations with flute & sax, guitars & keyboards and interplay galore.


background
Lester Moses came to Leicester from the London free improvisationa nd jazz scene and Chris got to meet him through mutual friend Mary Browne from The Rain Garden.

Chris used to play a lot of free improvisation (aka free jazz) in his university days and the thought of playing that style again with such an amazing player as Lester meant a recording just had to happen.

Once levels had been set, the 3 improvised between 4.30 and 6pm and then Lester had to go... And that was that - what you hear is the order in which it was played with no edits. Fun was had.



influences
Keith Tippett, Trevor Watts, Howard Riley, Evan Parker, Sonny Sharrock, Terry Riley, ECM,


trivia
The album was originally released as a cassette in 1995.

Recorded live 1st June 1995 (between 4.30 and 6pm) at TRG Studios, Leicester, UK

Moses, Styring and Conway would record again in October that year at The Rain Garden's 10th birthday concert which became The Rain Garden - Cosmic Engineers album,

CC's fave track -Local Inhabitants