| | |
| --- | --- |
| 1 | Meet You There |
| 2 | Nostalgia |
| 3 | Chasing Rainbows |
| 4 | Go Mango Blues |
| 5 | Bird Dancer |
| 6 | Never One Day |
| 7 | Cry |
| 8 | Detour |
| 9 | Strangers Still |
| 10 | Night Train |
| 11 | Plinn |
| 12 | Kindred |
| 13 | Cry II |
Chris Conway -
piano, synthesizer, electric 9 string guitar, bombarde, bamboo flute, voice, percussion

Neil Segrott - bass

John Runcie - drums, percussion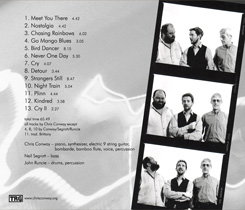 Jazz trio's first flight.
Happy Landings' debut album digitally remastered from cassette is a great blend of piano jazz and fusion.


background
Chris Conway's first jazz trio album recorded over 4 evenings at the Leicester University music department basement rehearsal rooms on a 4 track cassette player. It was essentially recorded live with guitar and little flute added at Chris's home studio on a couple of tracks.

The band was new and Chris was trying new things like using the synthesizer sounds on a loop using a sequencer freeing his hands to play guitar or bombarde.

The band got more ambitious composition-wise on their next album Sky High before chilling things out a bit on Think Blue, Count Two before they added sax to become the more mainstream jazz Chris Conway Quartet recording Who Cares?


influences
Steve Kuhn, Richie Beirach, Rainer Bruninghaus, John Abercrombie, ECM, Alan Stivell, Terje Rypdal



trivia
Released originally on cassette as the Chris Conway Trio - which became Happy Landings so for the re-release it made sense to bring it into the better known group stable.

Remastered in 2013 from the only remaining cassette copy. Then the original master turned up, so it was remastered later from that with much improved sound.

Some pieces have been recorded with different arrangements on other albums...
- Meet You There & Nostalgia were recently re-recorded on Retracing My Steps

- Cry appears on Chris Conway Quartet's Who Cares? and solo on Sanctuary/Piano Natural as Cry From The Past.

- Chasing Rainbows appears on 4am and as a song on Sounds Like Rain

- Kindred appears as Kindred Visions solo on Sanctuary/Piano Natural


CC's fave track -Night Train