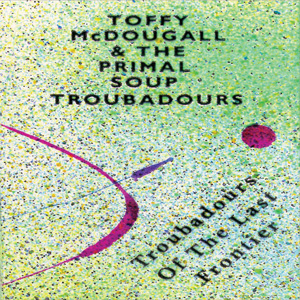 | | |
| --- | --- |
| 1 | That's Fine |
| 2 | Stream Of Unconsciousness |
| 3 | Primal Soup |
| 4 | Every Leaf That Falls |
| 5 | Cyclic Troubadours |
| 6 | Wrong To Be Right |
| 7 | Around The Fire |
| 8 | Porridge Soup |
| 9 | Don't Wait Too Long |
| 10 | Minstrel Monestary |
| | |
| --- | --- |
| Toffy McDougall - | voice, 12 string guitar, electric guitar, bass, percussion |
| Amanda Burns – | flute, percussion, voice, bicycle, squeaks. |
| Chris Conway - | electric guitar, laud, percussion, bamboo flute, voice, kalimba, melodica, bass, tin whistle. |
| Carl Peberdy - | tabla, percussion, bamboo & tin whsitles, sitar, voice, kalimba |
| Andy Robinson – | fretless bass. |
| Jeff Toach – | guitars, percussion |
| Misty The Dog – | voice, percussion |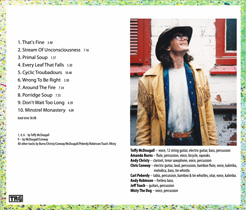 Epic hippy jam session with 4 songs from Toffy McDougall and the rest is ethnic jamming by candlelight.


background
Toffy McDougall was a busker in Leicester city centre for several years in the 90s. He also ran a jam session at the Pump & Tap pub. Chris Conway held a jazz jam there on a different night.
It was proposed to make an album for Toffy in the flat he shared with his then girlfriend Amanda Burns and Misty The Dog.

We started with one of Toffy's songs, but soon afterwards we got into jamming by candlelight. Hippy ethno riff jamming to start with, then ever more strange and free improvisations. We just placed microphones everywhere and put everything through a cavernous digital reverb. And we had a blast. :-)

We recorded over 2 days in January 1992 to 4 track cassette recorder and mixed as best as we could.

Difficult to know where to file this - 4 tracks are acoustic songs, 6 tracks are improvised instrumental music...


influences
John Martyn, Oregon, Collin Walcott, Ossjan, Kolinda



trivia
Recorded on the 9th (1-5) & 13th (2-10) by candlelight.

Only 30 copies of the cassette were ever made.

Cover art was from the original cassette album by Ali Russell, Chris's housemate at the time.

CC's fave track - That's Fine