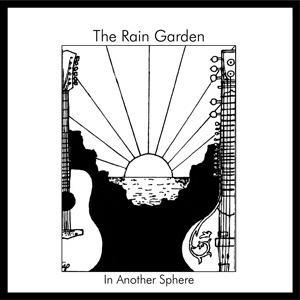 | | |
| --- | --- |
| 1 | Far And Wide |
| 2 | Outer Regions |
| 3 | Bombabla |
| 4 | Marche Derobé |
| 5 | Sukhwinder's Air |
| 6 | Tamzara |
| 7 | Dhuniya |
| 8 | Lullaby |
| 9 | Rain Circle Dance |
| 10 | Open |
| 11 | Reverberations |
Chris Conway -

10 string guitar, keyboards, bombarde, tin whistle, laud, sequencer, percussion

Carl Peberdy - sitar, tabla, percussion, tin whistle

+special guest

Renuka Russell - shakuhachi - 8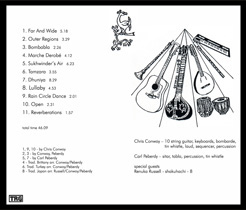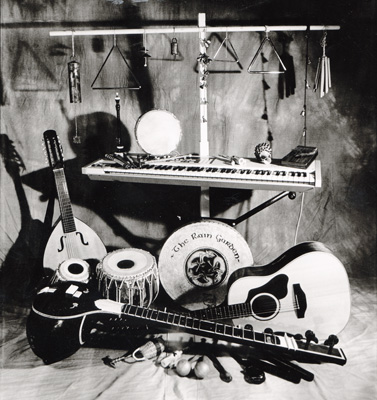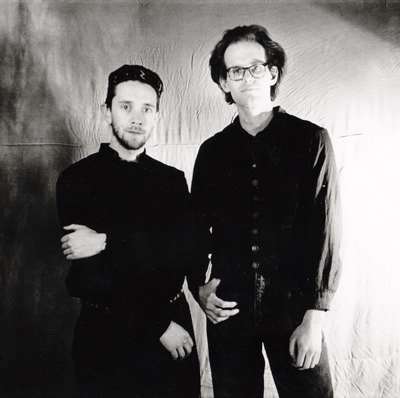 Debut album for world fusion music duo.
Sitar & guitar duets are interspersed with tabla and flute or bombarde pieces and arrangements including traditional melodies from Brittany, Turkey and Japan.
background
Chris Conway & Carl Peberdy met through their sitar teacher Dharambir Singh. Chris realised that Carl was several years more advanced than him and did not continue his study but thought it would be great to play with Carl in a duo which they did in 1985. Informal gigs happened in folk clubs, Leicester University, charity events and in 1989 they decided to record an cassette album.

The technology was basic - a keyboard amp as a mixer, a digital reverb, and a hi-fi cassette recorder. Music had to be recorded live - the keyboard washes were played live by a sequencer as they played. Seat of our pants recording - if we made a mistake we had to wind the cassette back to the end of the last recording...

It was a place to start however and it also is where their arrangement and playing style developed, with spaces for improvisation and a love of interaction and world melodies.

It also gave thema taste for recording as by their next album Back Of Beyond Carl had bought a 4 track cassette recorder and soon after Chris had a DAT digital recorder.

influences
Oregon, Ralph Towner, Collin Walcott, Steve Kuhn, Alan Stivell, Stephan Micus, Okay Temiz, Terry Riley, ECM



trivia
Remastered in 2013 from a 1989 cassette master - this might lead to the occasional flutter in sound.

1, 9, 10 - by Chris Conway
2, 3 - by Conway, Peberdy
5, 7 - by Carl Peberdy
4 - Trad. Brittany arr. Conway/Peberdy
6. Trad. Turkey arr. Conway/Peberdy
8 - Trad. Japan arr. Russell/Conway/Peberdy

A couple of track titles have been altered as similar titled works were recorded on other labels by Chris in later years and it was not wanted to confuse copyright issues.

In it's time as a cassette album, 275 copies were sold.

I remember when we were recording this, the hi-fi tape recorder would record a "click" between tracks. We were most annoyed with this at the time. I can't hear them now - but anyway there is a satisfaction in the fact they will be edited out now.

CC's fave track - Far And Wide