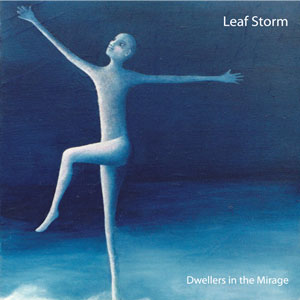 | | |
| --- | --- |
| 1 | Re-Awakening |
| 2 | Dividing of the Way |
| 3 | Dwellers in the Mirage I |
| 4 | The Golden Clan |
| 5 | The Shadowed-Land |
| 6 | Damn it, Jim, why do you look at me like that? |
| 7 | The Inside World |
| 8 | Breton Blue Weaving |
| 9 | The Glowing Lake |
| 10 | Christmas Every Morning |
| 11 | Skryabin's Ghost |
| 12 | Time For Bed |
| 13 | Solaris Revisited |
| 14 | Dwellers in the Mirage II |
| | |
| --- | --- |
| Chris Conway - | piano, keyboards, acoustic 10 string guitar, voice, bamboo flute, percussion |
| Dave Everitt - | double bass, acoustic guitar |
| Dan Britton - | percussion, 10 string guitar, double bass, kalimba |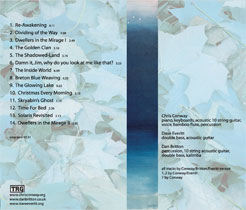 Atmospheric folk-jazz.
Piano, double bass, and guitars and percussion intertwine to create a lyrical melodic meeting place. A real gem.


background
Dave Everitt and Chris Conway had been working together in The Rain Garden and decided to record an album together, mostly melodic improvising.

2 tracks in Dave's neighour Dan Britton arrived (they worked together in a songs band called The Horse Thieves). He joined in and the album was finished late that night.

Not long after this Chris would join the Horse Thieves which then became The Storm Thieves.



Breton Bl;ue Weaving

influences
Oregon, Paul Winter, Ralph Towner, Keith Jarrett, ECM, Terry Riley, Alan Stivell


trivia
"Dwellers in the Mirage" was taken from the title of a book by A Merritt that Chris was reading at the time. Several titles were taken randomly from this book. "Leaf Storm" was taken randomly from books on Daves bookshelf.

This album marks the first time Chris & Dan met.

Solaris Revisited - Solaris was the name of a Chris's jazz quartet that Dave also played in.

Another version of The Inside World can be heard on Chris Conway's Happy Landings album Think Blue, Count Two

The album was recorded in a day.

The cover art is by Sally Wilson, a friend of the band also did the cover art to The Strom Thieves albums.

all tracks by Conway/Everitt/Britton except 1, 2 by Conway/Everitt, 7 by Conway

CC's fave track -The Inside World