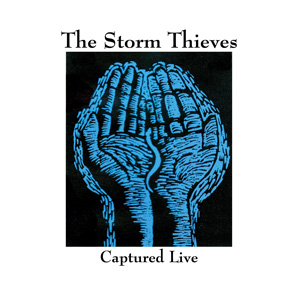 | | |
| --- | --- |
| 1 | Inside Out |
| 2 | Don't Count On Me |
| 3 | Something You Don't Know |
| 4 | Carousel |
| 5 | Wish Jam - She Moved Through The Fair |
| 6 | Dawn Bird |
| 7 | Time To Talk |
| 8 | Ride On (CD only) |
| 9 | Call Of The Wild |
| 10 | Snow & The Fire / |
| 10b | The Healing Has Begun (CD only) |
| 11 | Lost For Words |
download album has order slightly rearranged ~
to keep the flow after removal of cover songs.
| | |
| --- | --- |
| Dave Everitt - | vocals, guitar |
| Dan Britton - | vocals, guitar, rainstick |
| Chris Conway - | vocals, keyboards, guitar, flutes, percussion |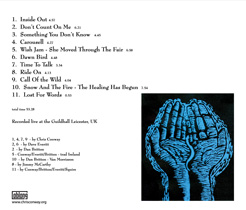 Live at the Guildhall, Leicester
Remastered re-release of their live album in Leicester's historic Guildhall.


background
Remastered rerelease of their live album from 1996.

The Storm Thieves had been used to playing lively music venues, bars and nightclubs. So a chance to play and record a concert at the Guildhall - a stunning timber framed building dating from 1390 - was not to be missed.

Simon Squire had been runnign the sound at their regular haunt The Bayou Club, and ran the sound and recording here. The Storm Thieves weren't used to the pindrop theatre-like audience, and while the atmosphere was not condusive to a rockier set and expansive jams, it was perfect for tight versions of their songs with a largely acoustic feel. A recital.


influences
Crosby, Stills Nash & Young, Van Morrisson, Alan Stivell, Mike Scott, John Sebastian, Jesse Colin Young, Waterboys


trivia
1, 4, 7, 9 - by Chris Conway
2, 6 - by Dave Everitt
2 - by Dan Britton
5 - Conway/Everitt/Britton - trad Ireland
10 - by Dan Britton - Van Morrisson
8 - by Jimmy McCarthy
11 - by Conway/Britton/Everitt/Squire

The download version of the album has the 2 cover songs removed.

Inside Out is from CC's on his Sounds Like Rain album

Call Of The Wild and Carousel was later recorded by Chris & Dan on their album Just Be Real. Carousel was also recorded on CC's Storming album - one of the few tracks on that album not taken from Storm Thieves albums.

Don't Count On Me & Something You Don't Know are from the lost studio album Long Time that didnlt see the light of day until 2007.

Lost For Words was a collage of spoken word moments from the concert created by Simon Squire.

Cover art is by Sally Wilson

CC's fave track -Something You Don't Know