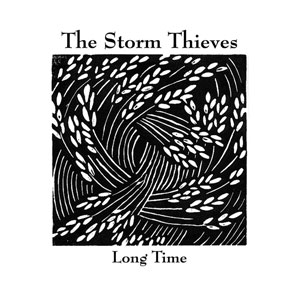 | | |
| --- | --- |
| 1 | Long Time |
| 2 | Turn Me Around |
| 3 | Don't Count On Me |
| 4 | The Autumn Land |
| 5 | Something You Don't Know |
| 6 | On My Way |
| 7 | The Snow and the Fire |
| 8 | Alien Runner |
| 9 | I Wish I Were |
| 10 | Long Day's Waiting |
| 11 | Out to Sea |
| 12 | Don't Give Up Too Soon |
| 13 | Survivors |
| 14 | The End |
| 15 | Going |
Chris Conway -

vocals, acoustic & electric 9string guitars, keyboards, tin whistles, bamboo flute, kalimba, mandozither, percussion

Dave Everitt -

vocals, acoustic & electric guitars, bass, effects, percussion

Dan Britton -

vocals, acoustic guitar, bodhran, bass, percussion

+ special guest

Neil Rabjohn -

bass, drums, percussion - 1, 6, 7, 12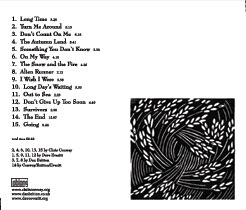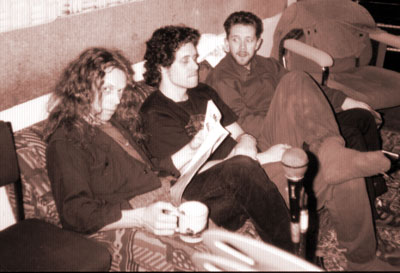 In the studio
At the launch gig for Long Time 12 years later


The Storm Thieves "lost" album from 96 released at last!
Dramatic songs and instrumentals and a big production combine to make this a real album of buried treasure for Storm Thieves fans.


background
Long Time - the lost Storm Thieves album.
After recording their first two albums live at Dave's home studio, The Storm Thieves in 1995 decided to go into a big studio out in the country to see how their sound could be enhanced by multi-tracking and the whole mixing production process. The song tracks on this album come from those sessions.

They began by re-recording three of their most popular songs from past albums and added new songs over the next year. After a while, due to a combination of things the band became a bit disenchanted with the process. One was how long things took compared with live recording. Long Day's Waiting took over 4 hours just to mix! Also being in separate booths with headphones was not conducive to their interactive style. They also became aware that each band member's songs sounded like tracks from a solo album rather than from a Storm Thieves album. They felt they were losing the band sound in the big studio. Whereas live playing brought their three different styles together, the big studio approach was pulling them apart.

The band then booked some time in a small inner city studio to do some live recording Ð no booths, no headphones, and with speaker monitoring to play with sound ideas in a way the big studio didn't allow. The instrumental tracks were taken from these sessions. Sadly tapes of a wild 30-minute long jam with live train sounds have been lost.

During recording, Chris collapsed with exhaustion after a long period of touring and it took quite a time to get well. (Turn Me Around is about his desire for recovery). When back to health he focussed on solo albums and assembled a new band The Talking Fish to play them live. Dan recorded a solo album as well with more of a rock edge, and Dave joined roots rock band Loscoe State Opera which became busy on the festival circuit and also released albums including some of his Storm Thieves songs.

Time passed. Chris and Dan did in fact release tracks from the Long Time sessions on their solo albums. The Storm Thieves still played the odd gig here and there (they still do) but their focus went on other projects, and the energy required to assemble and produce the Long Time album was not there.

12 years after recording began, Chris feared the digital tapes might've deteriorated so he had them transferred to CD. After some restoration and mastering, here at last, is the long lost Storm Thieves album. Hearing how good this album is today makes it seem all the more mysterious that it never was assembled in it's day. So many tracks have been unheard for so long, and the 13munite jam The End is a stunner. It's certainly has been a long time.



influences
Crosby, Stills Nash & Young, Alan Stivell, Van Morrisson, Mike Scott, John Sebastian, Jesse Colin Young, The Waterboys



trivia
CC released his songs from these sessions on his Storming album. The Storming mix of Survivors fades into the last part of The End.

CC used the track Going to end his Earth Rising album

Long Days Waiting had the biggest production and took over 4 hours to mix.

Neil Rabjohn was to join Chris & Dan in the band Govannen some years later.

2, 4, 6, 10, 13, 15 by Chris Conway
1, 5, 9 11, 12 by Dave Everitt
3, 7, 8 by Dan Britton
14 by Conway/Everitt/Britton

CC's fave track - The End