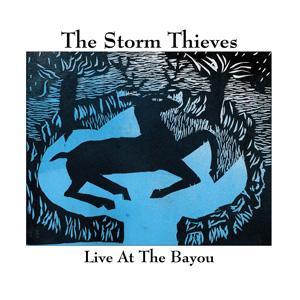 | | |
| --- | --- |
| 1 | The Field Road |
| 2 | Long Time |
| 3 | This Old Road |
| 4 | Wish |
| 5 | Hidden Beauty |
| 6 | Road Of Dreams |
| 7 | Which One Am I? |
| 8 | Dawn Bird |
| 9 | Endless Freefall |
| 10 | Bite Back |
| 11 | Tell Me Once More |
| 12 | Long Day's Waiting |
| 13 | Field Jam |
Dave Everitt -

vocals, acoustic & electric guitars, double bass, effects.

Dan Britton -

vocals, acousic guitar, bodhran, percussion, harmonica.

Chris Conway -

vocals, acoustic & electric 9string guitars, keyboards, tin whistles, bamboo flute, kalimba.
special guests
Zorpinda Zorpin - double bass - 3
Clare Johnson - flute - 12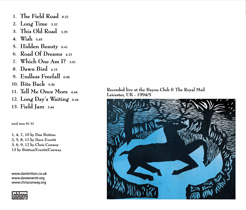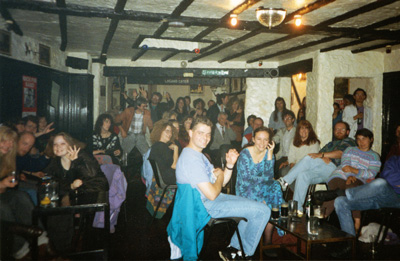 background
Recorded live at The Bayou Club and The Royal Mail, Leicester 1994/5.
On remastering and re-releasing their live album Captured Live recorded in Leicester's Guildhall in 1996, tapes from 4 earlier concerts came to light.
Whereas the Guildhall offered a theatre recital type venue which suited subtle singer-songwriter music, The Storm Thieves regular haunts, at The Bayou Club and The Royal Mail in Leicester, captured another side to their performance. The songs are there, but also is the spark of improvising, of stretching the arrangements, trying out new songs and taking chances in front of a lively crowd.
These recordings have been remastered and capture in amber something very special.


influences
Crosby, Stills Nash & Young, Van Morrisson, Alan Stivell, Mike Scott, John Sebastian, Jesse Colin Young, Waterboys


trivia
1, 4, 7, 10 by Dan Britton
2, 5, 8, 11 by Dave Everitt
3, 6, 9, 12 by Chris Conway
13 by Britton/Everitt/Conway

This recording was the first live perfomance of This Old Road and Which One Am I?

On compiling this album, Dan had no recollection of writing Which One Am I?

A studio recording of This Old Road appeared as a bonus track on Conway's Sounds Like Rain album.

Road Of Dreams was announced at the concert as Just Begun, it's working title.

Cover art is by Sally Wilson

CC's fave track -Field Jam