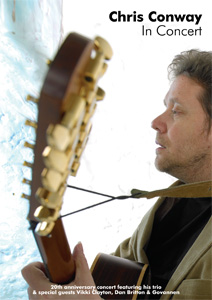 | | |
| --- | --- |
| Chris Conway - | vocals, acoustic 9 string guitar, keyboards, kalimba, tin whistles, bamboo flute, theremin. |
| Neil Segrott - | bass, vocals |
| Neil Rabjohn - | cajon drum |
| + special guests | . |
| Vikki Clayton - | vocals, guitar 11-13 |
| Dan Britton - | acoustic guitar, vocals, bodhran - 18-27 |
| Adele McMahon - | violin - 24-27 |
| The Audience - | vocals - 9 |
Set 1

solo

1

Entrance

2

River Blue

3

Alien Salad Abduction

4

Wonder

5

Help Me

6

Rainbow Real

+ trio

7

Green Clothes

8

I Don't Know

9

Three Headed Girl

10

Forget About You

+ trio & Vikki Clayton

11

Ten Years

12

I Want Something

13

Coming In To Land

theremin interludes

14

Theremin Tidings

15

Planet Theremin Interlude

50mins
Set 2
solo

16

Re-Entrance

17

Proud Of You
+ trio & Dan Britton

18

Carousel

19

Long Day's Waiting

20

Finally

21

Train Of Thought

22

Lifespell

23

Call Of The Wild

+ Govannen

24

King Of The Faeries

25

Queen of the May - The Congress

26

Deja Blues

27

The Alien Jellyfish Song
solo encores
28

Homecoming

29
Survivors

58mins

bonus
.
Christo Remembers

23mins
Chris Conway -

vocals, 9 string guitar, keyboards, tin & low Irish whistles, kalimbas, bamboo flute, theremin, effects

Neil Segrott - electric bass, vocals

Neil Rabjohn - cajon drum

+ special guests
Dan Britton -
guitar, vocals, bodhran - 3, 11, 12, 14-18

Vikki Clayton - vocals, acoustic guitar - 7, 8
Adele McMahon - violin 17, 18
The Audience - vocals - 10
Set 1


Set 2



background
Throughout my 20th year I tried to think of ways to mark the occasion. I had concerts through the year, and I'd planned on making a "greatest hits live" album from those recordings. Then I realised one thing I hadn't got much of was video footage, not just of me but of the many musician chums I've been playing music with for so long.

So I decided to do it all at one concert - put on a concert with as many music chums as could make it - record the music on multitrack, and have it filmed on 2 cameras.

Much mixing and editing later and I got the album and the dvd in the bag!

I struggled for a long time as to how much to put on the dvd - eventually Neil Segrott the bass player said - "Just put it all on" - so I kept all the tracks. As it seemed a bit of a marathon I devided the dvd up into the 2 sets.


influences
David Crosby, John Sebastian, Alan Stivell, Paul Kantner, Country Joe McDonald, Jesse Colin Young, Buffy Sainte-Marie, James Taylor, Jimmy Webb

trivia
Sound recorded live digitally on 8 track hard disk recorder, mixed and mastered at Oblong Studios. Visuals filmed on 2 cameras by Dave Soden & crew and edited and designed by Sally Hossack. Bonus footage filmed on Chris's Flip Ultra camcorder.

A highlights CD is alvailable - Love & Peace & Outer Space

Studio versions of tracks - Studio versions of tracks -
Proud Of You, I Don't Know, Train Of Thought - My Mind's Island album

Alien Salad Abduction, Alien Jellyfish Song - Planet Theremin - Alien Salad Abduction album

Lifespell, Forget About You, Homecoming - Close The Circle album

Finally - Songs For Dreamers album

Call Of The Wild, Carousell - Just Be Real, Long Day's Waiting - Just Be Real album with Dan Briton

Coming In To Land, I Want Something - Flying Home album


CC's fave track -Three Headed Girl


reviews

CHRIS CONWAY
In Concert DVD (OBLONG) www.chrisconway.org

Celebrating twenty years as a professional musician, In Concert DVD captures Chris Conway on stage at The Musician in Leicester, a town the American multi-instrumentalist has called home these past two decades and more.

Joined at various points in the evening by regular collaborators Neil Segrott (bass, vocals), Neil Robjohn (cajon), Vikki Clayton (vocals, guitar), Dan Britton (guitar, vocals, bodhran) and Adele McMahon (violin), Conway and his team rattle through a wide-ranging selection of material from his past and present. It's a showcase for the hugely prolific and vastly underrated (he's Leicester's best-kept musical secret) performer, whether singing his light and airy West Coast-style compositions, assorted material infused with more exotic world and Celtic influences, or indulging in his mad professor-like experiments with the theremin; spooky …

In addition to the 108 minutes of music, there's a twenty-three-minute extra featuring the main man reminiscing.
R2 Magazine - Dave White


CHRIS CONWAY
The Musician, Leicester
For the celebration of his twenty years as a professional musician, Chris Conway has rounded up friends and associates from all stages and phases of his career and his set list and instrumentation is equally wide-ranging. Filk (science fiction-based folk music, a genre in which Conway is very successful), Irish diddley diddley folk and plain old singer-songwriter pieces all makes regular appearances, though his more-esoteric electronic leanings are kept down to a single excursion on theremin.

Lyrics of the likes of 'Carousel' and 'Train Of Thought' act as a powerful and thought-provoking counterpoint. The gig is being filmed for a DVD, which leads to much entertaining hamming it up, staged entrances and applause from the large and warm crowd.

Highlights include special guest Vikki Clayton, Conway's playing of two whistles at once tour de force on his own 'Rainbow Real' and the reliably silly and entertaining 'Alien Jellyfish Song'. Yet it's not only a measure of Conway's professionalism that it all does ultimately come together, but also of the esteem in which he's held that the crowd don't drift off as the clock approaches midnight. It feels more like a gathering of old friends than a commercial gig, and that can only be a good thing.

R2 Magazine - Jeremy Searle
concert review